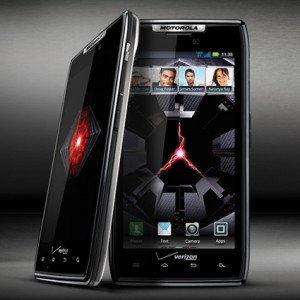 Even before the internet became part of the mainstream, a synergy between fashion and technology existed. In this age of Wi-Fi, social networking and smartphones, that synergy has turned into a symbiotic relationship that is complex and far reaching.
Day 1
Sunday, February 12, 2012 / — It was the fourth day of the New York Fall 2012 season and I had a full calendar beginning with a visit to the GLSEN Style Lounge at the Empire Hotel. And, though it was not a surprise to see representatives from Motorola giving a presentation about the new DROID RAZR by Motorola, it was actually nice to reconnect with the company.
Okay, this will date me… but in another lifetime when I was still a software engineer for the now defunct company named Pagenet, I worked closely with Motorola as the two companies were developing two-way paging (the progenitor of SMS text messaging) and email-on-the-go (one of the progenitors of the features of today's smartphones).
Wireless applications were still in its infancy and the mobile web was just a gleam in a programmer's eyes. Even then, Motorola was on the cutting edge of technology, hence it was not surprising that when I met them today they were still on the cutting edge with the DROID RAZR by Motorola.
Tech reviews of the Droid RAZR is already out there and because I'm in the market for a new smartphone (my wireless provider has been pushing me to upgrade), luckily for me, I actually read up on the RAZR so I was not entirely clueless when I met with the Motorola representatives.
Now, whether they were impressed with my knowledge (which I doubt), or they simply like me (which I seriously doubt), or because I just happen to be at the right place at the right time (which is more like it), they offered me the use of a DROID RAZR by Motorola for the duration of fashion week.
I have to return it of course, but hey… I don't have anything to lose, right? I get to play with a new smartphone at no cost to me. And it will also help me make a final decision on what will be my next phone, which will make Verizon, my wireless provider, very happy.
At the DKNY, Custo Barcelona and Y-3 Shows
Since the RAZR's functionality as a phone is a given, the first thing I tested was the highly touted 8 megapixels camera which I put to use at the DKNY, Custo Barcelona and Y-3 shows.
The videos are great since they came out in HD. Uploading them to YouTube was also fast using the 4G network. But, the still photos have a lot to be desired. It is not the Droid RAZR's fault though. I was just getting used to the camera and my hands kept on moving. It is so sensitive that you really have to hold it still.
DKNY Video http://www.youtube.com/watch?v=LZu8XuEdPcc
Custo Barcelona video http://www.youtube.com/watch?v=P9wh7IMnp60
Day 2: At Zang Toi, Lia Sophia, Chris Benz, Walter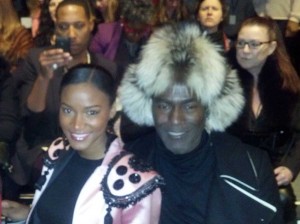 Monday, February 13th gave me the fashion moment of the week. It was a full capacity crowd at the Zang Toi show with the standing room also filled up.
Three front row seats beside me remained empty and at least half a dozen people asked me who were sitting there. I kept on telling people I did not know until someone behind nonchalantly said, "Its Miss Universe."
Not knowing what to say to the barrage of people wanting the seat and asking me who was sitting there, I started telling them, "Miss Universe."
Lo and behold, when the house lights started flickering signaling the show will start soon, the reigning Miss Universe (Leila Lopes), Miss USA (Alyssa Campanella) and Miss Teen USA (Danielle Doty) sashayed to the seats!
Later in the afternoon, visiting the Lia Sophia presentation at the Empire Hotel gave me the opportunity to test the Droid RAZR when shooting still life. Since the subjects were not moving and I have adjusted to the RAZR's 4.48 ounces (127 grams) very light weight.
At the Chris Benz and Walter presentations, I finally found the perfect way to hold the RAZR while taking a picture. Like the videos, the still photos are HD and quite frankly if you are photographer, you can have a lot of fun with the RAZR as you can shoot without lugging a heavy camera around.
It was also at Walter that I discovered the digital recorder in the RAZR which I promptly used to record my interview with the designer Walter.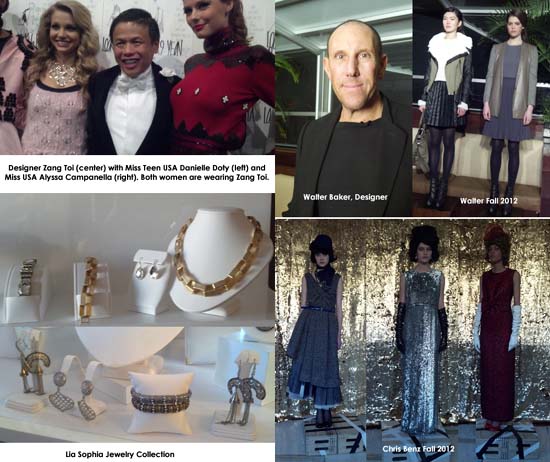 Day 3: At the Barbie Exhibit
On Valentine's Day, I found the Barbie Exhibit at Amsterdam Avenue. It was also the day that I figured out that I can have all my Facebook friends in the Contacts area of the RAZR. This opens another way of communication in addition to email, text and phone because you can chat with your Facebook friends anytime and anywhere as long as you have your phone with you.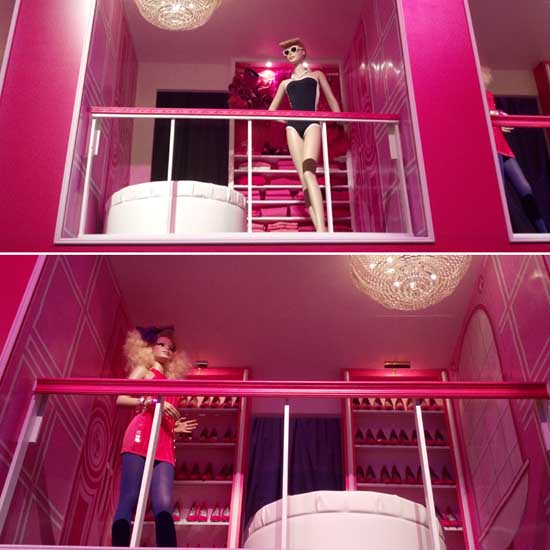 Day 4: Accessories Lounge, Jeremy Scott, Levi's, Anna Sui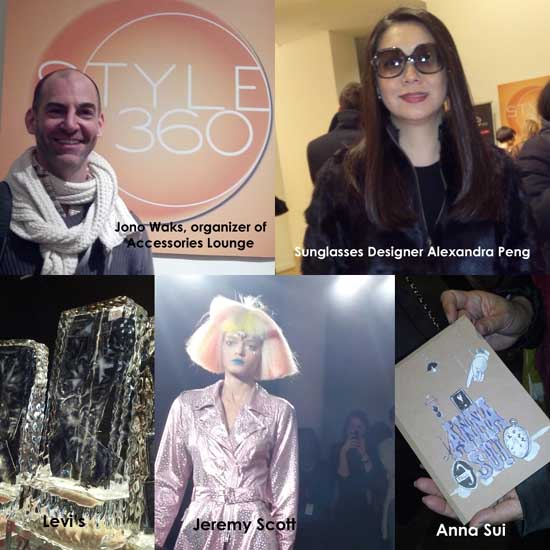 Day 5: Calvin Klein Collection, Stephen Burrows
With Calvin Klein Collection closing the official Mercedes-Benz Fashion Week calendar at 2:00 PM and Stephen Burrows showing off calendar at 4:00 PM, it just left me enough time to figure out the GPS in the RAZR.
It offers at least 3 – Verizon Navigation, the built in GPS and of course Google Maps. It might be overkill since you only need one. Nevertheless, having choices is good.
I also finally downloaded Tweeter, and which completed my three favorite apps – Facebook, WordPress and Tweeter. (YouTube came pre-installed).
With its 4G speed, the DROID RAZR by Motorola is a hardworking smartphone. It easily became an indispensible tool and immediately a full-pledged member of my tech gadgets arsenal when covering fashion week.
There is only one thing to be aware of when using the RAZR. Because of its 4G speed, thus making uploading and downloading data very fast, you can easily use up your data package. I don't have an idea how much I used but I uploaded two videos in YouTube, lots of photos at Facebook and made several posts with photos using WordPress.
[MARI DAVIS]
All photos and videos were shot using the DROID RAZR by Motorola unless otherwise stated.
(Disclosure: This post is sponsored and paid for by Motorola.)