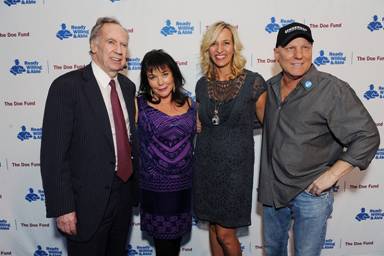 NEW YORK, Mar 2, 2012/ — Giving a leg up to those who need it, The Doe Fund is a $50 million, multi-disciplinary human services agency that helps 1,000 people every day to better their circumstances through several programs.
Headquartered in New York City, The Doe Fund provides paid work; workforce development and job placement; transitional, supportive, and permanent housing; drug testing and counseling; and comprehensive social and educational services for those who need a leg up.
All once homeless or incarcerated, the "men in blue" of the organization's flagship program, Ready, Willing & Able, can be seen cleaning 150 miles of New York City streets every day, rain or shine.
This paid transitional work is the first step they take toward self-sufficiency, and they complete Ready, Willing & Able with full-time, permanent employment, apartments of their own, and their sobriety. To learn more, visit www.doe.org.
And last night, the organization held its first annual Sweet: New York fundraiser at the Metropolitan Pavilion to support Ready, Willing & Able's "Men in Blue."
Prominent New Yorkers and socialites were greeted with an impressive display of desserts and savory delicacies by renowned chefs and pastry artists then danced the night away to music curated by DJ CHELSEA LEYLAND.
Some of the most important names in New York's social set were present at the event including model JESSICA WHITE, it-girl CORY KENNEDY, and jewelry designer GENEVIEVE JONES. The Doe Fund's President and founder GEORGE MCDONALD and wife HARRIET MCDONALD celebrated alongside STEVE and WENDY MADDEN. The event also brought out many of New York's creative elite including celebrity stylist DEREK WARBURTON, art connoisseur KIPTON CRONKITE and fashion designer ELI MIZRAHI.
MADISON COWAN – the first ever Grand Champion of Food Network's Chopped and star of BBC America's No Kitchen Required – was on hand with his own display of sweet and savory delights.
Guests bid on donated items from brands such as DKNY, COACH, STEVE MADDEN and BETSEY JOHNSON and prints from renowned photographers TERENCE KOH, ALBERT CHEUNG and RICK BOLEN. Other sponsors included Oops, Great Brewers, West 3rd Common, Godiva, Tao, Baked by Melissa, Whole Foods, Pescatore, Mirror Imaging and many more.
To learn more, visit www.doe.org.