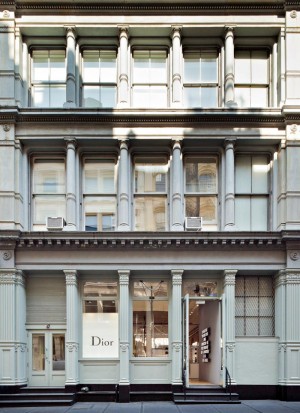 NEW YORK, Apr 20, 2012/ — Dior Homme fans rejoice!!! The iconic French men's label just popped up in Soho while the Dior Homme Boutique at 57th Street is undergoing renovation.
Opened last April 16th, the Dior Homme pop-up store is located at 133 Greene Street and will serve as the sole Dior Homme Boutique in New York while the New York flagship is being retrofitted. The 57th Street location is scheduled to reopen in early Fall 2012.
The pop-up store features a signature mix of merchandise across all categories presently available under the Dior Homme label – ready-to-wear, footwear, eyewear, leather goods, watches, jewelry and fragrance.
Designed as a unique multi-dimensional space incorporating luxe materials with rich, tactile finishes throughout, the Soho pop up store brings together distinctly modern and traditional elements that reflect the duality of Dior Homme.
In keeping with the contemporary construct of the space, Dior Homme Creative Director Kris Van Assche selected a piece by post-situationist artist, Robert Montgomery, to display in the boutique.
The imposing text-based sculpture, entitled whenever we see the sun (2012) is part of Mr. Montgomery's "Recycled Sunlight" series and will stand to evoke the structural and masculine aesthetic.
DIOR HOMME SOHO POP-UP STORE
133 GREENE STREET
NEW YORK, NY 10012
+1 212.421.6009