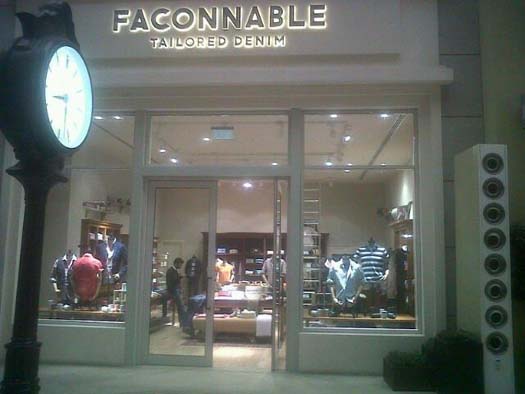 PARIS, Apr 17, 2012/ — Nice-based Faconnable opened new stores in Jeddah, Saudi Arabia, Dubai and Doha, Qatar, a total of three new shops and thus strengthening its presence in the Middle East.
The Jeddah outlet is a full-service Faconnable store while the ones in Dubai and Doha are dedicated to Tailored Denim Collection.
Measuring 120 square meters, the new Faconnable location in Jeddah is located in Tahlia Street, home to high-end brands. Its neighbors include Ralph Lauren, Emporio Armani, Gucci and Louis Vuitton.
The store's décor evokes the spirit of Faconnable as seen in the blue and beige color theme, both colors emblematic of the brand and directly inspired by the brand's home region, the south of France.
Herringbone parquet rough white oak and Honey-colored oak paneling, worked stones with lime and joinery exposed to the mineral aspect, indigo blue linen draperies for the intensity of blue Riviera bordering the shore of the French Riviera complete the atmosphere.
Faconnable Jeans Collection is gaining visibility in the region with the opening of two shops located in the heart of strategic shopping centers that cater to both the local population and international visitors.
Measuring 56 square meters, the Qatar shop opened in March in The Mall in Doha while the Dubai store measuring 94 square meters opened at the Dubai Mall this April.
The largest mall in the world in terms of area, the Dubai Mall is part of the 20-billion-dollar Burj Khalifa complex and houses 1200 shops.
Being a five-minute drive from the Doha International Airport, The Mall Doha is a favorite destination not just by local residents but also boasts of an international clientele. It is located on the "D-Ring" road facing the Al Ahli stadium and home to 600 shops that include Mont Blanc and TagHeuer.
The Faconnable Jeans Collection store at The Mall Doha exudes a relaxed, intimate and authentic with rich wood paneling and draperies sublime linen, intended to highlight a wide selection of pants and five-pocket denim blue night. The universe of Faconnable Jeans emphasizes Italians faded denims beautiful shapes and various sections that allow to give his style to infinity.