On View at The Museum at FIT
May 23 – November 10, 2012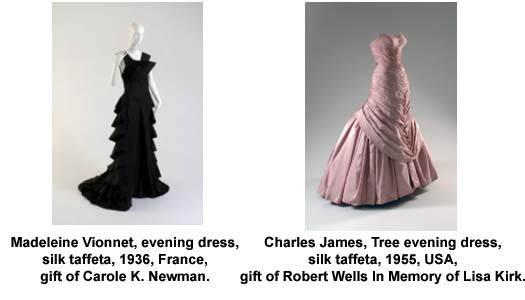 The Museum at FIT continues its exploration of modern and contemporary design with Fashion, A-Z: Highlights from the Collection of The Museum at FIT-Part Two, the second of two consecutive exhibitions that showcase selections from the museum's permanent collection of more than 50,000 garments and accessories.
As with Part I, which was on view from November 29, 2011, through May 8, 2012, this exhibition is organized alphabetically by designer, offering visitors a compelling way to view fashions by many of the leading creators of the 20th and 21st centuries. Fashion, A-Z: Highlights from the Collection of The Museum at FIT-Part Two will open at The Museum at FIT on May 23 and will be on view through November 10.
Innovations that helped transform the look of early to mid-20th century fashion will be demonstrated by Madeleine Vionnet's bias-cut, 1936 evening dress, which exemplifies her artistic, yet mathematically precise construction techniques. Equally beautiful is Charles James' Tree dress (1955), which is characterized by his typically intricate construction. Existing examples of James' work are rare because he made fewer than 1,000 garments in a fifty-year career. The Museum at FIT houses more than 40 of these creations.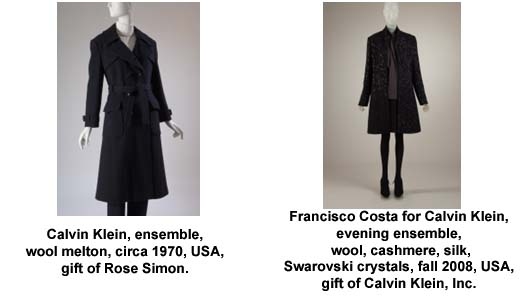 Calvin Klein, whose first success was with coats and suits, will be represented by a navy wool trench coat and trousers from circa 1970. Featuring a streamlined silhouette and flawless construction, Klein's chic and timeless ensemble will be exhibited alongside a fall 2008 evening coat and skirt by the label's current creative director, Francisco Costa. Costa's tailored coat is embellished with hundreds of black Swarovski crystals, taking it in a glamorous new direction.
A number of important new acquisitions to The Museum at FIT's permanent collection will also be on display. These include an exquisite, artfully embellished purple velvet gown from Ralph Lauren's fall 2008 collection. A photo-printed 2011 dress from Akris – a family-owned, Swiss label that has been in business for 90 years – fuses a modern aesthetic with meticulous craftsmanship. Another highlight of the exhibition will be a digitally printed dress from Alexander McQueen's spring 2010 Plato's Atlantis collection – the last collection presented by the designer. This is the first time that any of these dresses will be shown at The Museum at FIT.
A companion book to both exhibitions will be published by TASCHEN in fall 2012. The book will feature color photographs of 500 of the museum's pieces as well as an extensive essay on the history of fashion museums and exhibitions written by Dr. Valerie Steele, director and chief curator of The Museum at FIT.
Visit www.fitnyc.edu/museum
Museum Hours
Tuesday-Friday – noon-8 pm
Saturday –10 am-5 pm
Closed Sunday, Monday, and legal holidays
Admission is free and open to the public.