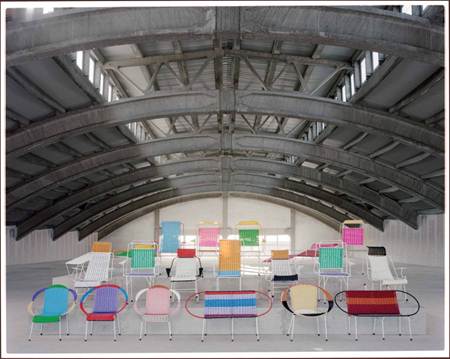 MILAN, Apr 10, 2012/ — For Salone del Mobile 2012, Marni presents a collection of 100 chairs made in Colombia by ex-prisoners. This Marni venture aims to reinforce the prisoners' resettlement into social and working life.
All chairs consist of metal structure and multi-colored PVC threads featured on the backs and armrests. A common seat in Colombian local families, re-interpreted by Marni who modified the woven pattern and created new color variations.
The chairs are linked to the "L'Arte del Ritratto" (The Art of the Portrait) project through a photo exhibition created in collaboration with the photographer and filmmaker Francesco Jodice. His performances are based on works of categorization: the chairs are used as background for a series of portraits of Marni teams from different departments. "
L'Arte del Ritratto" is an homage dedicated to them, destined to last in time, which is also accompanied by a video that reports the shooting experience.
The collection of 100 chairs, the photo exhibition and the video will be presented at the Milan Marni boutique during Salone Del Mobile, and its adjacent courtyard from April 18th to the 22nd with a special cocktail at the Marni boutique on April 18th.
Furthermore all photos will be published on ANTICAMERA2, Marni's online magazine, which will be published on www.marni.com during Salone del Mobile 2012.
The exhibition will then tour to various Marni boutiques worldwide where the local teams will also be photographed and their image added to the next leg of the tour, thus continuously enriching the exhibition.
The project reaffirms Marni's involvement with charitable initiatives. The funds raised from the sale of the chairs will be donated to the institute ICAM of Milan – a project which allows children of imprisoned mothers to spend their youth in a family environment.