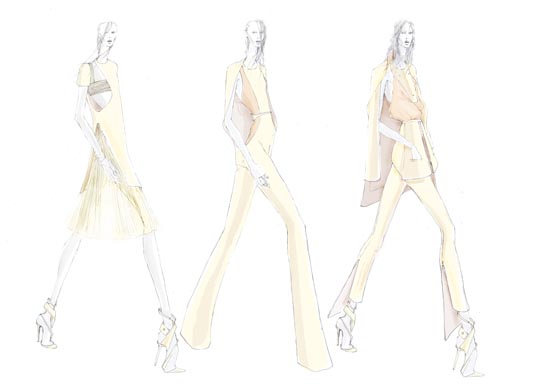 LONDON, May 10, 2012/ — Three years after leaving as Creative Director at Emanuel Ungaro, Esteban Cortazar is back with a vengeance. The fashion wunderkind is re-launching his eponymous label at Net-a-porter, the world's premier online luxury fashion retailer.
Born in Columbia and raised in South Beach, Florida, Esteban Cortazar took the New York fashion scene by storm in 2002 when at the tender age of 18; he launched his first ready-to-wear line. In 2007, he was appointed chief creative director of French fashion house Emanuel Ungaro, before departing from the label in 2009.
Staying out of the limelight for three years, Esteban Cortazar resurfaces stronger than ever with his capsule collection of 17 looks which will be available exclusively at Net-a-porter.com
Launching in July, collection symbolizes Cortazar's journey of evolution and growth – his birth in Colombia, growing up in South Beach in the nineties, launching his career in New York and moving to Paris.
Elegantly contemporary with a touch of feminine attitude, expect a fresh approach to tailoring and eveningwear with a focus on layering and asymmetric shapes. In a neutral palette of rose gold, nude and off-white, the collection displays the lightness of touch and attention to detail that Cortazar's designs are known for.
Confessing that he is very excited for embarking on the new stage of his career, Esteban Cortazar comments, "I feel so eternally grateful, privileged and honored to have been given this incredible opportunity by Natalie and Holli at NET-A-PORTER. I could not have asked for a better partner to develop this idea with, it has truly been a labor of love between us from the very beginning of the entire process and I'm delighted to be able to launch my collection in such a thoroughly modern way."