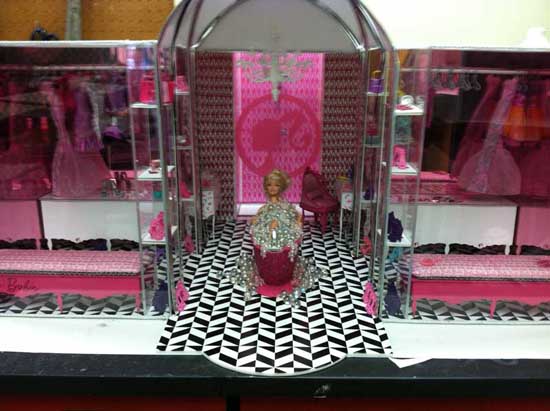 NEW YORK, May 22, 2012/ — Fifteen students who will graduate on May 22 from the Fashion Institute of Technology (FIT) were named winners in a contest to create fashions, interior designs, jewelry, photos, films, and visual displays for Mattel's Barbie and Ken. Mattel, the contest's sponsor, selected three winners from each of the five FIT programs that participated: Fashion Design, Interior Design, Jewelry Design, Photography, and Visual Presentation and Exhibition Design.
All finalists in the competition developed their designs into a towering two-story multi-media "Barbie pink" installation, on view through September 3 in the lobby gallery of the Fred P. Pomerantz Art and Design Center at FIT, located on the corner of Seventh Avenue at 27th Street.
Among the works in the installation are Barbie and Ken fashions made from non-traditional materials on life-size mannequins; models of new rooms for Barbie's Dream House; Barbie jewelry; full-size replicas of furniture; photos and short films with Barbie and Ken; and a storefront window inspired by Barbie's Dream House and Play With Fashion.
Winners were announced at the installation's opening on May 4. Presenters included three FIT alumni – Joe Zee, creative director, Elle; James Holmes, principal designer/art director, Mattel; and Peter Helenek, vice president, design, Barbie Brand, Mattel. Stephanie Cota, senior vice president, Global Marketing, Girls Brands, Mattel also presented.
First-place winners, each of whom received $5,000, are:
Maor Tapiro (Brooklyn, NY), Fashion Design
Jessica Mazur (Oswego, NY), Interior Design
Veronica Zhou (New York, NY), Jewelry Design
Loreal Prystaj (Rochester, NY), Photography
Elyse Falato (Basking Ridge, NJ), Visual Presentation and Exhibition Design
Second-place winners, each of whom received $3,000, are:
Jessy Ayala, (New York, NY), Fashion Design
Sarah Hatch,(Jacksonville, FL), Interior Design
Kittinuch Amatayakul (Bangkok, Thailand), Jewelry Design
Chris Arena, (Plainview, NY), Photography
Sarah Karp, (Lattingtown, NY), Visual Presentation and Exhibition Design
Third-place prizes of $2,000 each went to:
Justin Gushue, (Cinnaminson, NJ), Fashion Design
Katie McTammany, (Rochester, NY),Interior Design
Min Kyung Kim, (Chang Won Si, South Korea), Jewelry Design
Binh Nguyen,(Saigon, Vietnam), Photography
Dahea You, (Seoul, Korea), Visual Presentation and Exhibition Design
Two-story Installation of Original Fashions, Interior Designs, Jewelry, Photography, Films, and Visual Displays for Barbie and Ken
On View Through September 3 at FIT
Free and Open to the Public