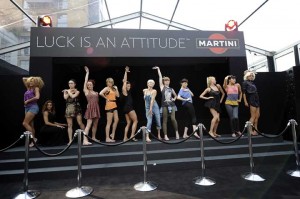 LONDON, May 23, 2012/ — MARTINI, one of the most iconic brands in the world, launches an exciting new campaign to find the next female MARTINI advertising star with Christian Louboutin as the international judge.
Named after the MARTINI Royale drink, The MARTINI Royale Casting is a global search to find a woman who demonstrates the philosophy of MARTINI 'LUCK IS AN ATTITUDE.' 'LUCK IS AN ATTITUDE' runs deep in the MARTINI brand history which promotes playfulness and encourages all to live life to the fullest.
In addition to following in the footsteps of previous MARTINI stars such as Charlize Theron, Nicollette Sheridan and Monica Bellucci, the casting winner will also receive €150,000, 12 pairs of Christian Louboutin shoes and 12 designer outfits.
The MARTINI Royale Casting launches with the first live casting open to all women, 25 years of age or above, at the London Design Museum at 6pm on May 23rd.
Women will be able to enter at WWW.FACEBOOK.COM/MARTINI where they will be required to upload a short video showing why they should be the next MARTINI star.
The MARTINI Royale Casting will then go live across 25 countries on May 28th from Brazil to Spain, South Africa to Italy. The successful candidate will be chosen in October by Christian Louboutin and a high profile judging panel.