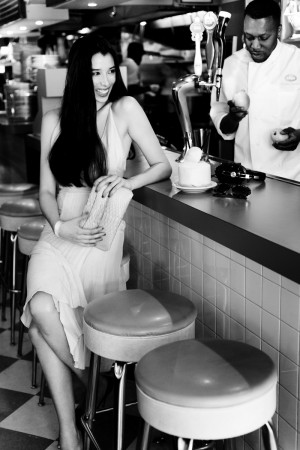 NEW YORK, May 14, 2012/ — A model and a philanthropist, Vogue-anointed "It Girl" Lily Kwong is the cover story of LifetsyleMirror.com, the instantly-shoppable website known for its curated selections of the best in style.
Kwong, who is the cousin of CFDA/Vogue award-winning fashion designer-of-the-moment Joseph Altuzarra, is just graduating from Columbia University with a degree in sociology and urban studies. When not studying, the Vogue-anointed "It Girl" and unofficial Altuzarra muse lights up the New York social circuit, often wearing his designs.
"I thought Joseph's [Fall/ Winter 2012] collection was brilliant," she says. "I'm coveting the knee-high patent boots and anything with coin embroidery."
Currently residing on New York's Upper West Side, the self described "downtown girl" posed for Lifestyle Mirror at the Jamaican SoHo restaurant Miss Lily's..
"My boyfriend [photographer Simon Cave] and I went to Jamaica after fashion week and I completely fell in love with the energy, the food, and the people," she says. "It's a treat to escape to Miss Lily's for a little mini stay-cation when we can't get out of New York."
In addition to studying, the San Francisco native blogs (www.august-10.com) and has also recently helped start a charity with her father called Nuvana (http://nuvana.org/). Nuvana is a social media and gaming non-profit that empowers the youth in poor communities to hone their problem-solving skills through interactive video games. After graduation, Kwong will be traveling on Nuvana's behalf.
Even with such a busy schedule, the multi-tasking Kwong still takes time to put an effort into the way she dresses. Citing Proenza Schouler karate pants and Petit Bateau tank tops as among her favorite loungewear, she saves pieces by Altuzarra as well as Prada, Reed Krakoff and Stella McCartney for dressier events. Staying true to her laid-back personality, Kwong shares her primary fashion rule:
"Don't take yourself too seriously," she says.
The instantly-shoppable story and behind-the-scenes video launches today on LifestyleMirror.com.