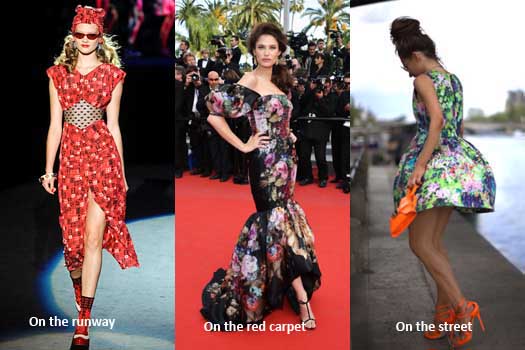 If there was ever a time to shy away from bold fashion statements, this is not it! Prints are pretty much taking over the world this summer, and once you see the attention-grabbing beauties in action you'll be shedding those springtime pastels and be ready to rock the new take on psychedelic-chic.
Join us on a fashionable roam through the print jungle with our guide to 2012's super-trend…
FLORALS – from tiny ditzy-prints to big and beautiful graphic images – We think are a force to be reckoned with on tops, blouses and dresses, while beautiful gyspy-esque scarf prints, bold checks and sketch-pad geometrics grace everything from clutch bags to fluttering skirts on the most influential runways.For the easiest way to bring the trend home, look to printed dresses. Go for the Lipsy Techno Tribal Bodycon Dress or the Blonde & Blonde Aztec Panel Dress, both available from us at Bank. But what do you wear it with?!
Designers from D&G to Julien Macdonald showed there are two ways to wear prints this season, and both require yet more prints! The first route will see you teaming like with like in the same design from head to toe. A blazer and trouser suit balances out the madness with clean lines, while a flowing maxi dress teamed with a matching headscarf puts you in touch with the trend's hippy roots. The second door we would like to lead you though, is clashing your prints; a look that certainly requires confidence. The beauty of this styling tactic is that you can pick out items and mix and match them with no concern for what goes together: in fact the crazier the combo, the better.
That's all from us at BANK's Fashion House for now. Enjoy your summer and go print mad, that's our advice!