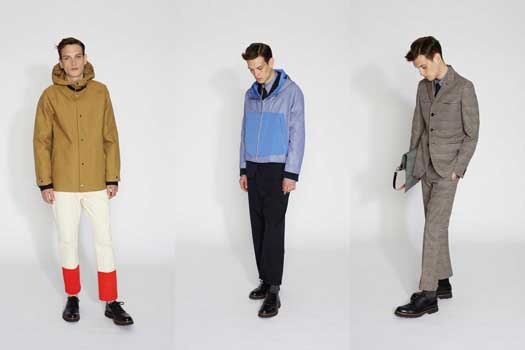 MILAN, Jun 25, 2012/ — Clothes edited to their essential form, Marni was at its element with its rhythmic prints creating orderly patterns over surfaces and a sense of graphic multiplication.
The Marni Men Collection for S/S 13 is an exploration of lines, intended both as precise cuts and classic visual elements: the neatness of the design matches the precision of the patters, yet the effect is slightly off-kilter. A sense of tension, hints of contradiction create subtle ruptures in a modular wardrobe that is like a compact system of elements.
The silhouette is straight, volumes are restricted. The masculine wardrobe is streamlined to the essential: outerwear, shirts, suits, tees. An idea of functionality recurs. Cropped parkas and neat overcoats are closed with snap buttons; shirt-jackets worn over matching trousers hint at work uniforms.
Repeating patterns in different colors highlight the sum of parts on each garment, or entire outfits: geometric motifs swarm all over precise suits worn with shirt and tie; knit cardigans sport shirt sleeves; contrast stripes give shirts and shorts a constructivist feel.
Short sleeved shirts are neatly worn with ties. Sweatshirts paired with bermuda shorts and zip-up blousons with contrast pockets have an air of precise nonchalance.