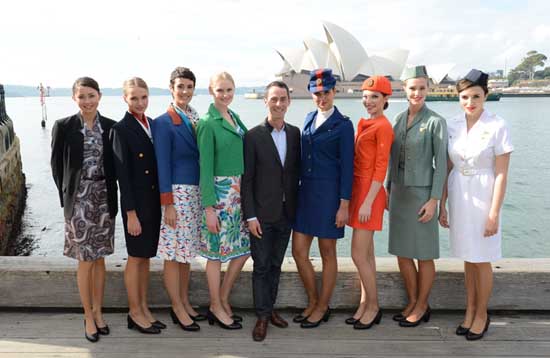 PARIS, Jun 4, 2012/FW/ — Paris-based and Australian-born, famed designer Martin Grant has been commissioned to design the new Qantas uniform which are expected to hit the friendly skies on 2014.
With this new assignment, Martin Grant follows the footsteps of Yves Saint Laurent and Emilio Pucci who had both designed Qantas uniforms at one point in time in its long history.
"As an Australian, I'm proud to be working with such an iconic Australian brand," commented Martin Grant when his selection as the new Qantas designer was announced.
Since his commission was made public last May 31st, Martin Grant had started working with a number of Qantas employees to evolve concepts and designs. Grant will also engage with the Qantas uniform panel, dedicated team of uniformed employees representing their colleagues across the business, to provide feedback on elements such as design, wear and comfort.
Martin Grant's designs will be the 10th incarnation of the Qantas uniforms which had been re-designed nine times since 1959. The new uniform will replace the existing design by Peter Morrissey, which was introduced in 2003.
"It will be wonderful to see the Qantas teams wearing my design across Australia and in cities all over the world," Martin Grant said.
(Photo above: Martin Grant (center) with models wearing historical Qantas uniforms)