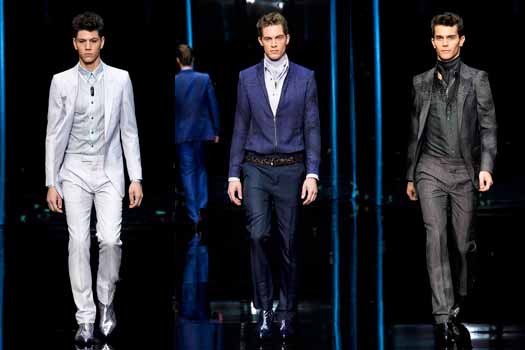 MILAN, Jul 26, 2012/ — In an age when high-tech lies supreme, Roberto Cavalli takes a different path and goes back to Nature for his inspiration.
"'The immense secrets of the Cosmos are enclosed within the smallest wonders of Nature," said Roberto Cavalli. This is the philosophy with which the new Roberto Cavalli Men Spring Summer 2013 was conceived. The inspiration – the butterfly, which to Roberto Cavalli is a symbol of "transformation"; a metaphor of change.
The change starts from the jacket, the emblem of male fashion. Based on the sartorial tradition, and finding a new refinement in the cut and in the shapes, which embrace and dignify the structure of the body, highlighting its elegance and sensuality.
Squared and bold shoulders, soft lightness on the waist. A sophisticated and sharp allure, but at the same time extremely comfortable. The trousers are straight and tight.
As a whole a "triangular" architecture is drawn, sharp and fugacious, which finds its completion on the tip of a laminated leather boot. A virile glamour, anatomical and geometrical, which lengthens and slenders the silhouette.
Great craftsmanship in leather manufacture: natural python or treated to give it a shimmer effect, laminated nappa leather, suede nappa patch edged in laminated leather for jackets, trousers and ankle boots.
The look is completed by long silk scarves, wrapped around the neck, or showed underneath the shirts and the collars of the jackets, which draw the collection prints.