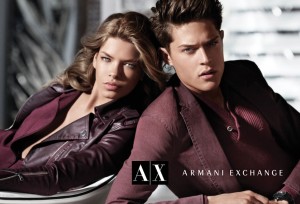 NEW YORK, Jul 24, 2012/ — Touching on the current zeitgeist of superheroes and their hidden identities, A|X ARMANI EXCHANGE created an edgy, iconographic images that are exquisitely beautiful and sexy inhabited by mysterious characters for its Fall 2012 campaign.
Entitled "IDENTITIES", the A|X Armani Exchange Fall 2012 campaign captures the spirit and cinematic style that defines the brand. Using light to define the subject, these iconic images capture an intense mood of cool sensuality.
Infused with an undeniable sense of personal style, the images are a unique take on the importance of fashion in our lives – style identities.The A|X Fall 2012 collection is powerful, modern and sophisticated – the cornerstone of the Armani Exchange aesthetic.
Shot over three days at a soundstage in NYC, the location plays a major part in the overall theme of the campaign. Set amidst a unique urban backdrop, representing the iconic and industrial city, the location highlights the collection's cutting-edge street chic styling.
"IDENTITIES" will launch in August 2012 with a series of color images that break in major national media—print, outdoor ads, and online.
The campaign features models Barbara Palvin, Natasha Barnard, Valerija Sestic, Ceasar Casier, Arran Sly and Tomas Skoloudik.