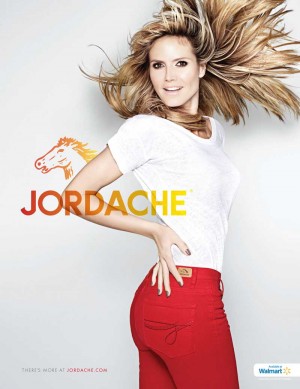 NEW YORK, Aug 8, 2012/ — Multi-talented and multi-faceted, supermodel Heidi Klum became a household name when she became the host of "Project Runway." Now, her fans will see her on stage, not to catwalk but to dance for Jordache.
On Jordache's biggest advertising campaign to date, Heidi Klum, clad in Jordache Jeans dancing to a sequence choreographed by Emmy award winner Mia Michaels, who also happen to be a judge and contributing contributing choreographer for Fox's hit TV show "So You Think You Can Dance".
Shot by photographer, director and longtime Klum collaborator, Rankin in New York City, the campaign perfectly blends a heritage denim brand, a pop culture craze and an iconic face of fashion.
The dance craze, that personified the disco era Jordache launched in, is brought to modern life with Heidi Klum, who reveals yet another hidden talent. Mia Michaels's choreography, and an updated 70's era soundtrack created by Ian Love, set the symbolic rhythm of a multi-faceted modern woman, in control, confident, and having a great time.
This is the third time Jordache has selected Klum to be featured in their ad. The multifaceted campaign will include a national television commercial and print ad that will run beginning in mid August.