Miami, August 14, 2012/ FW/ — Entitled 'La Dolce Vita Miami', the designers, Fama Lourdes "Luli" Hanimian and Augusto Hanimian of Luli Fama are inspired by the 1960s cult classic La Dolce Vita for their Resort 2013 collection.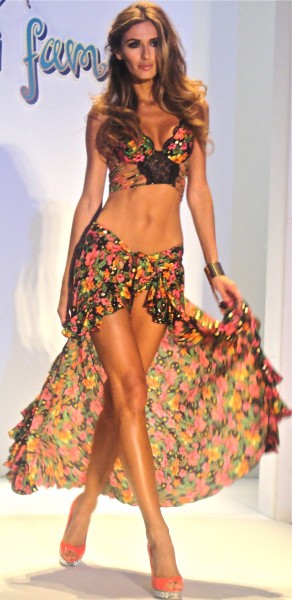 Luli Fama's "La Dolce Vita Miami" Resort 2013 collection includes flirty, vintage swimwear and classic beach apparel looks that evoke and celebrate the essence of a boho flowerchild and bombshells of the 1960s era, Italy's decadence, and the opulent and carefree lifestyle of Miami.
The Resort 2013 collection contains sultry swimwear silhouettes including bandeau and halter-style bikinis and Luli Fama's signature sexy, ruched back high-waisted bottoms that express a feminine nature with its charming accents, which include ruffles, bows, crystals, and gold hardware.
The collection also contains chic, colorful cover-ups including playful rompers and jumpsuits, vintage style high-waisted shorts, printed tunics, and sophisticated dresses that can be worn from day-to-night.
Designer, Lourdes Hanimian expresses "Our collection is inspired by uniting old and new. We combined retro and modern styles with elemental highlights from pinup silhouettes, featuring underwire, onto today's well-admired bandeau top."
The Resort 2013 collection serves to express the style symbols of the 1960s with its fringe, crochet, and tie-dye and kaleidoscopic floral prints, and also serves to celebrate the spirit of Italy with its unique, baroque-style prints and romantic laces.
Collection hues include vibrant colors such as peach, aquamarine, mint-green, yellow, and neon-pink that are representative of Miami's energetic lifestyle.
With its traditional silhouettes, rich textures, intense colors, and Italian-inspired prints, the Luli Fama Resort 2013 collection evokes a sense of romance and infinite glamour that transports guests from a 1960s beach bash into today's modern style.
[Darby Radcliff] Photos by Darby Radcliff