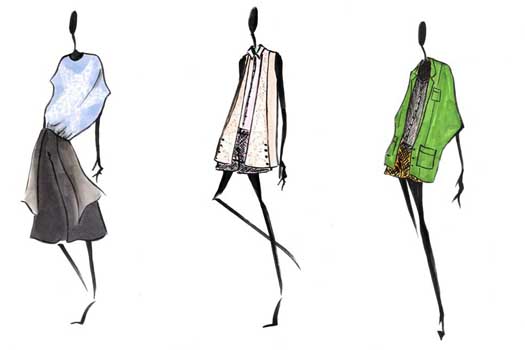 NEW YORK, Aug 17, 2012/ — Now on its third season showing in New York, Natsuko Kanno, Creative Director of 4 Corners of a Circle will debut the label's Spring 2013 collection on September 5, 2012, 5:00pm at EYEBEAM, 540 West 21st Street.
For Spring 2013, Kanno looks to Tanabata, the Japanese star festival, which is a powerful love story of ancient deities. In modern times, Tanabata is a celebration of hope and love, where one can see written wishes and poems hanging on trees and ornaments throughout the country.
How would the wishes from those in Tokyo differ from those in New York City? Inspired by cultural differences in the world around her, Kanno's philosophical inquiries about life are creatively expressed through her collections.
The 4 Corners of a Circle show is set to transport the audience to Natsuko Kanno's unique slice of Japan. The acclaimed Japanese beauty brand Shiseido is creating the make-up for the Spring 2013 collection.
Bold jewelry by Christine J. Brandt created from exotic hardwood and gemstone crystals will adorn models on the runway. Guests can look forward to a moment of serenity with a live classical music performance.
[MARI DAVIS]