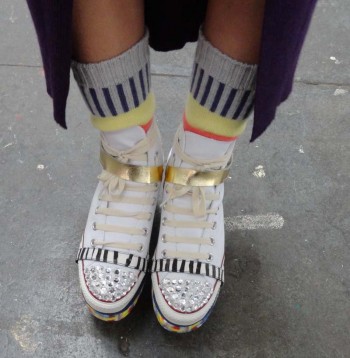 NEW YORK, Sep 5, 2012/ — Attending the Degen Spring / Summer Presentation earlier today, the first thing that greeted attendees were a sign that said, DEGEN and below it was Converse, hence it was not surprising to see all the models shod in different styles of Converse shoes.
From the classic high top to the studded variety, it is easy to realize that Converse had morphed into a fashionista's shoes from its sportive beginnings.
And, another observation, Converse shoes can also be another form of geta, the traditional Japanese footwear that resemble both clogs and flip-flops. But instead of the thong, there is Converse shoes.
Hmm… I wonder what a geisha's opinion on that subject is?
[MARI DAVIS]
Photos by Mari Davis