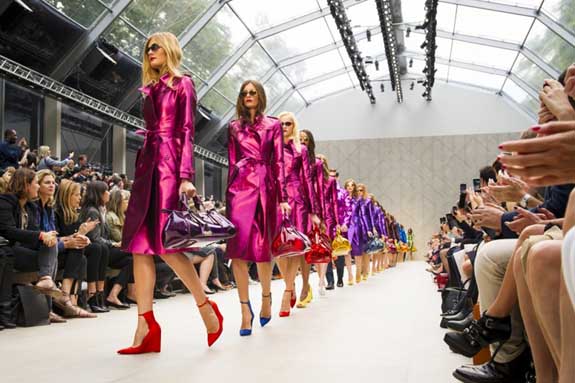 LONDON, Sep 18, 2012/ — In an homage to London and the UK, Burberry Chief Creative Officer, Christopher Bailey shared the Burberry Spring 2013 runway show with the world with three separate events happening at the same time in real time.
First, there is the traditional catwalk show with 1500 guests in Hyde Park where the "tent" is made out to be a high-tech greenhouse. Before the start of the show, the venue is like any other fashion show tent – all closed up and dark with only the house lights as a source of illumination.
When the show began, the ceiling "opened" revealing skylights; hence natural light was used for the show which was augmented by spotlights.
Second, there is the live feed to Burberry's Regent Street flagship wherein 500 guest enjoyed a bigger than life projection of the show at Hyde Park. And lastly, viewers around the world accessed the show via a livestream on the internet and mobile web.
All three show experiences were linked via a social stream, integrating real time content from the London events, Twitter and Instagram.
"This has been an amazing year for London and the UK. The show today was a great moment for us to celebrate the incredible energy of our home town and the distinctively British fusion of design, craft and innovation," commented Christopher Bailey.
"We wanted our audiences around the world to share in this experience, bringing a smile to their faces whether watching on their mobiles, in the show space or at our first live global event at Burberry Regent Street," Mr. Bailey added.
A star-studded front row that included industries Sir Jonathan Ive, Thomas Heatherwick, Harvey Weinstein, Mario Testino, Anna Wintour, Samantha Cameron and Secretary of State for Culture Maria Miller. 2012 Olympians Andy Murray (with girlfriend Kim Sears), Victoria Pendleton, Pete Reed, Allyson Felix, Paralympian Jonnie Peacock and boxer Amir Khan. Perfomer Dita Von Teese and actors Gabriella Wilde, Alice Eve, Maggie Cheung, Dev Patel, Saif Ali Khan, Giorgia Surina, Do Youn Jeon, Rosalie Craig, Jeremy Irvine, Julian Ovenden, Aaron Paul and Nicolas Vaporidis. Musicians Roo Panes, Harry Styles, Allison Mosshart, Misty Miller, Marika Hackman, Florrie Arnold, Jade Williams, George Craig, Dan Gillespie Sells, Adam Pickering, Paula Walker, Miles Kane, Rory Cottam and Samuel Fry and models Laura Bailey, Suki Waterhouse, Tali Lennox, Julia Restoin Roitfield and Florence Brudenell-Bruce witnessed the unveiling of an optimistic and highly colorful Burberry Prorsum Spring 2013 womenswear collection.
Doubly inspired by the works of Norman Parkinson during the 1940s & the 1950s plus early 1900s capes and capelets from the Burberry archives, Christopher Bailey created a collection that he described as "sassy and sexy".
Saturated shades of pink, fuchsia, magenta and green among others, were used in summer coats, trenches, shorts and dresses. The result – an uplifting spring collection that will surely find its way to many fashionistas wardrobes.
And the best thing about it – the Spring Summer 2013 collection is available for purchase on Burberry.com for one week bringing the collection to the consumer globally in just 8 weeks through the brands Runway to Reality initiative.
[MARI DAVIS]
Photos courtesy of Burberry