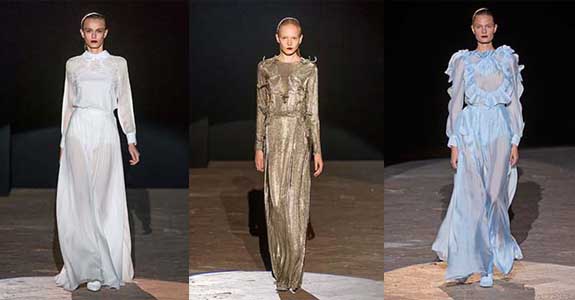 MILAN, Sep 20, 2012/ — A noblewoman from Capri from the beginning of the century, a slightly artistic traveler full of bohemian charisma decides to embark on a hot-air balloon trip.
Timeless. Dimensionless. Francesco Scognamiglio's muse for spring/summer 2013 groups her whole wardrobe in just a few pieces, enough to reach to the far ends of her world, featuring shapes that forego any rigidity and structure to become a full part of the female silhouette.
A sophisticated and dream-like inspiration takes form through proportions: seductive volumes wrap the body without clinging to it, while delicate roomy shapes add a perfect geometry.
Dresses are very long – impalpable and opulent – with a colonial-chic feel, they are realised in hand-made cotton thread; skirts hug the silhouette … from morning to evening…
The atmosphere is rarefied and light, focus is on a new, discrete and refined aesthetic taste.
The past then modernises by interrupting volumes, which become ultra-short – shirts, shorts, dresses – a romantic military mood that is brought out by details: décor buttons, finishings that have an old-time and opulent charm, bordering on fantasy.
Materials give life to unusual combinations amplifying inspiration: cottons, linens, silks; alongside metallic meshes and ultra-thin jersey.
The colour palette is based on block colours – Off white. Total black. Metallic silver.
All the way to sky-blue, a metaphor of feminine desire to fly off together with that flock of birds embroidered on the outfits who might be travel companions for a dream-like, poetic journey in which each item of clothing becomes the page of a diary combining art and history and the sublime.