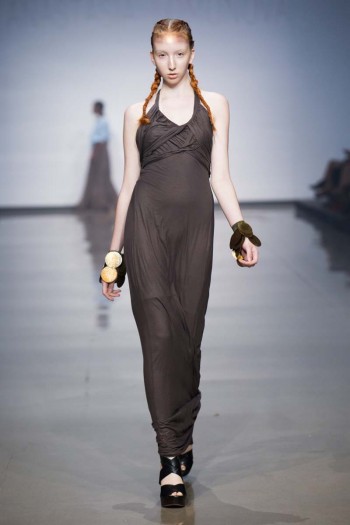 MONTREAL, Sep 4, 2012- This season, Lomonova made a strong fashion statement; she traveled to a place where the imaginary meets the past, presenting an aesthetic that evoke old chaman and mystic African tribes.
Lomonova succeeded to build this magical universe; even if some silhouettes sometime missed intensity, most of it were very strong. The color palette was inspired by the desert sun and cool blues featuring rich fiery reds while burnt blacks remind the scorching heat of the desert.
The collection just looks like a complete story, portraying a tribe where strong woman evolve together, in a sort of magical harmony. We truly felt this mystic connection since it seemed impossible to take apart one look from the other; every piece, every look was interconnected.
Lomonova definitely mastered the art of draping and giving a show. We loved the all-over fringed bodysuit that moved perfectly with the body. This season, the designer definitely took risk by bringing the audience into her own avant-garde fashion sense.
MARIE-CHARLES
Photos by Jimmy Hamelin, courtesy of Montreal Fashion Week