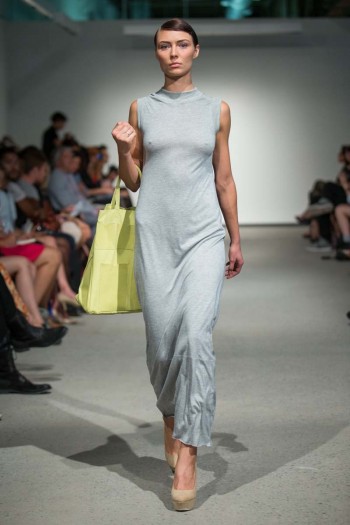 MONTREAL, Sep 4, 2012/ — After being discovered by the creative directors of Trusst Club, Natasha Thomas launched the byThomas brand at Montreal Fashion Week in 2011.
This season, she presented Collection no.5 a collaboration with British visual artist and designer, Jonathan Haydock. "Driven by their mutual love for the fine arts and crafts, design and fashion, the duo have worked to expand the range of the byThomas brand by offering its first menswear collection, designed and presented in conjunction with the new women's line."
And the result is exquisite. Known for her streamlined and sharp silhouettes, this collection feature an amalgam of textures and fabrics that give a whole new dimension to her quite minimalist collection that features amazing jackets, well fitted skirts and
Collection no.5 is inspired by the careless style of the beat generation. Along with a magpie-like attraction toward modern design and architecture, an injection of home-craft – see curtains-lace dresses or old wallpaper inspired prints, colors the collection with humor.
Finally, the duo explore a 1970's David Hockney inspired color palette, that goes from faded blue to chartreuse and includes cream and white.
The collection is, as they portray it, an exploration of art through fashion..
MARIE-CHARLES
Photos by Jimmy Hamelin, courtesy of Montreal Fashion Week