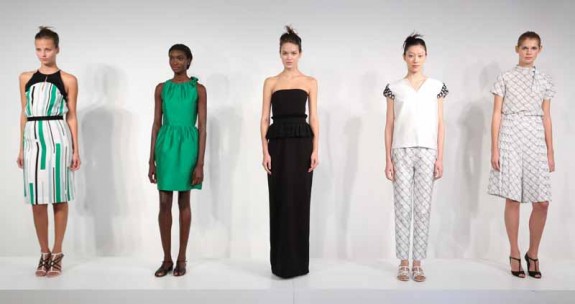 NEW YORK, Sep 11, 2012/ — For Spring/Summer 2013, RAOUL drew inspiration from nature; nature when interrupted by the urban environment.
Spring/Summer 2013 is a crisp, clean and carefully considered collection for RAOUL. It has a fresh contemporary feel, yet draws inspiration from artisanal techniques such as lace-making, table-cloth embroidery, micro-pleating, tucking, beading and embellishment.
RAOUL have applied them to contemporary forms and cuts, staying true to the clean lines that the brand has always favored. Instead of the color or print-blocking of past seasons; a variety of monochromatic laces are appliquéd against a cotton poplin, crepe or stretch-twill ground.
Pleated cotton ruffles form a peplum to a blouse or strapless evening dress. Leather, pique hems and silk yokes are scalloped while leathers are lazer-cut into lace pattern T-shirts and tanks or attached as a yoke to a cotton pique dress.
Beading in the form of small florets fill the necklines of white or brightly colored shantung cocktail and evening dresses, while black and white rhinestones pave the collar of a silk georgette evening gown.
Print still plays a prominent role in this collection. Preferably, they are worn print on print or with a singular contrast color. Prints are used singularly in different weights and fabrications