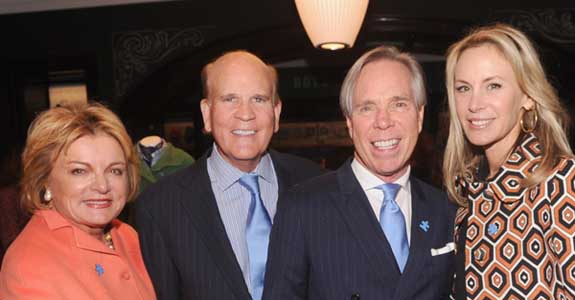 NEW YORK, Sep 20, 2012/ — Yesterday, at the Tommy Hilfiger Fifth Avenue Flagship store, Tommy Hilfiger Kids launched with the usual fanfare with one very special addition – Tommy Hilfiger U.S.A., Inc. donated 20% of sales of the Tommy Hilfiger Kids collection from the evening to Autism Speaks.
Founded in Feb 2005 by Bob and Suzanne Wright, grandparents of a child with autism, Autism Speaks since then has grown into the world's leading autism science and advocacy organization.
Bob and Suzanne Wright, co-founders of Autism Speaks joined Tommy and Dee Hilfiger to celebrate the launch of Tommy Hilfiger Kids together with friends and family that included: NY Knicks' Amar'e Stoudemire with Alexis Welch and family, NY Knicks' Jason with Porschla Kidd and family, NY Rangers' Brian Boyle, IndyCar Driver Ryan Hunter Reay, Pro Surfer Alek Parker, Music Producer Billy Mann, Elaina Watley and Kennedy Cruz, Archie Drury, Cory Kennedy, Casey Fremont Crowe and family, Jennifer Creel and Ann Dexter Jones.