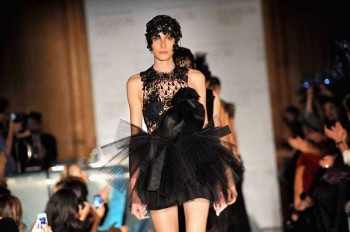 PARIS, Oct 17, 2012/ — It started in March, during Paris Prêt-a-porter Fall 2012 season, so it is fitting that the grand finale catwalk show of the 2012 Dorchester Collection Fashion Prize be held at the heels of the Paris Prêt-a-porter Spring 2013 season.
Held yesterday at the Hôtel Plaza Athénée, the grand final was an opportunity for the shortlisted designers – Augustin Teboul, Calla, IRM Design, Les Garçons Paris and Quentin Veron – to present their designs at a catwalk show to the assembled audience of judges, and international VIP guests and media.
After a deliberation period, the judges agreed that the collection displayed by Augustin Teboul best evoked the spirit of individuality, luxury, style and craftsmanship, which characterises Dorchester Collection's iconic hotels. Their work also demonstrated critical distinction and the potential for future commercial success.
The esteemed judges of the 2012 Dorchester Collection Fashion Prize included Elizabeth Saltzman the contributing editor to Vanity Fair, Kenzo Takada, founder of Kenzo; Bruno Frisoni, artistic director for luxury shoe designer Roger Vivier; Lorenz Baumer, designer of Louis Vuitton jewellery; Alexandra Golovanoff, French journalist and TV host; Nathalie Rykiel, CEO of Sonia Rykiel; Chantal Thomass, CEO of Chantal Thomass lingerie; Harumi Klossowska de Rola, jewellery designer and daughter of painter Balthus; and Jean-Jacques Picart, fashion and luxury consultant.