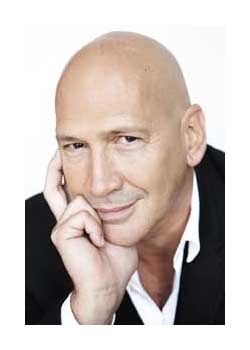 NEW YORK, Oct 13, 2012/ — We know Carmen Marc Valvo for his exuberant designs that have graced many red carpets. He is the go to designers of Fifth Avenue socialites and has dressed some of the world's most beautiful women that includes HRH Princess Madeleine of Sweden, Queen Latifah, Beyoncé, Katie Couric, Leona Lewis, Catherine Zeta-Jones, Vanessa Williams, Kate Winslet, Eva Longoria, and Mary J. Blige, among others.
Very few people know that Carmen Marc Valvo is a colon cancer survivor and that for some time now, he has been working with Katie Couric to bring attention and support of research of this deadly disease. Also, in 2008, Carmen appeared with his friend Vanessa Williams in a national broadcast and print public service campaign to encourage early screening for colon cancer.
But more than, Carmen Marc Valvo has used his designing prowess to help raise millions of dollars for Colon Cancer Research. Giving both his time and money to the organization, Carmen has always utilized his designs to help with many causes over the years, but especially the NCCRA (National Colorectal Cancer Research Alliance).
Recognizing his selfless work, the Samuel Waxman Cancer Research Foundation will Carmen Marc Valvo on November 15th, 2012. The event will be held at the 67th Street Armory. Over 1,600 guests from Wall Street to Main Street will attend this annual fund raiser that will benefit this exemplary organization founded by Dr. Samuel Waxman.
"We could not have found a more deserving person to honor this year," states Dr. Samuel Waxman. "Carmen Marc Valvo's untiring dedication to draw attention to this insidious disease has brought a better understanding of its lethal powers. He is also a testament to survival and inspiration to those who are battling the disease. "
The Samuel Waxman Cancer Research Foundation brings together the best scientific minds in cancer research across different disciplines to collaborate and share research with each other. The result is a synergy of scientists sharing data and tools from their respective institutions to creatively and collectively solve problems. This could potentially mean faster cures to patients. This collaboration is called Institute Without Wall.