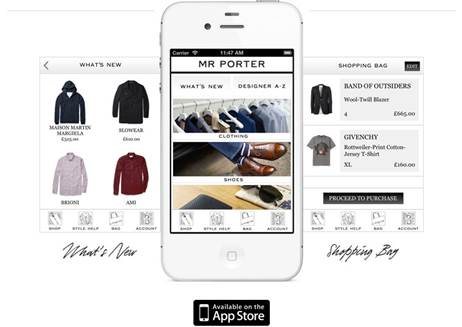 DALLAS, Oct 26, 2012/ — There's a new iPhone and iPad 4 is out. There is even an iPad mini. But, one thing remains the same, the Mr Porter Style App continues to feature the complete range of MR PORTER products in zoomable high definition fashion.
Style Help, including The Essentials and Stylepedia and What's New, your weekly update on the latest items available on MR PORTER are of course still available 24×7.
So, it's not surprising that Safe House star Ryan Reynolds has it on his iPhone and one of his favorite apps according to a Marie Claire article (http://www.marieclaire.com/blog/ryan-reynolds-favorite-iphone-apps).
Says Ryan Reynolds about the Mr Porter Style App, ""I like clothes. I don't like shopping for them. [Mr Porter Style App] has just about everything you'd ever want in the world of beautiful clothes — from buttoned-up to casual. And you can do it all while walking the dog in Central Park."
Ryan is right; the Style App offers over 180 of the world are leading menswear brands and features a great selection of up-to-date style advice and editorial content.
The MR PORTER.COM iPhone app is available for download on iTunes –
http://itunes.apple.com/us/app/mr-porter/id481673241?mt=8
For more info:
http://www.mrporter.com/app