A new guide from Debenhams shows how you can make the right statement for any occasion with the perfect white shirt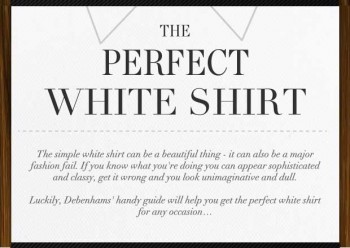 LONDON, Nov 1, 2012/ — The plain white shirt is a men's wardrobe staple, and you might think that they're all the same – but you'd be wrong. Whether you're looking to make a good impression on a first date or swing a job interview your way, the subtle style statements you make with your seemingly plain white shirt can give you the edge.
Complementing its new definitive white shirt collection from renowned designer Jeff Banks, Debenhams has put together a handy guide to help men understand the subtle variations of a classic white shirt. From collars to cuffs and pockets to weaves, this guide provides simple, straightforward pointers to help men hit the right mark.
Broken down into four separate occasions – date night, a wedding, an interview and everyday work – the Debenhams guide provides tips on which collar gives you the most tie options, which weave is best for making an impression, and how to power dress in the subtlest of ways. Whatever statement you want to make with your white shirt, the Debenhams have your options covered.
Paul Baldwin, Director of Menswear Buying at Debenhams, said: "Every man needs a white shirt in his wardrobe, but not every man knows how to make the most of one. The simplicity of the white shirt does not mean you can't make a statement.
"With our new guide, the subtle variations possible with the classic white shirt are laid bare, with simple tips for getting the right look and making the perfect impression – whatever the occasion."
This infographic was produced by the stylists at Debenhams (http://www.debenhams.com/)