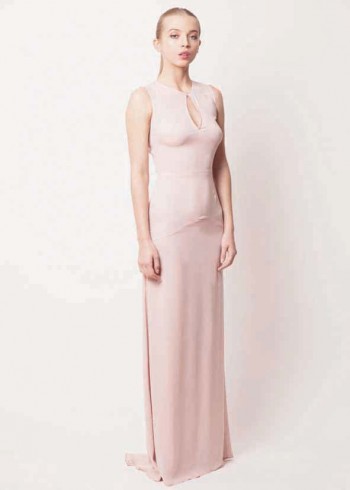 PARIS, Nov 22, 2012/ — "The spirit of Woodstock and its contemporary treatment was the starting point for this collection," explains designer Dima Kassis. "I love the sensuality and elegance of the time; above all its freedom. I wanted a collection that escapes strict codes: a collection brought down to its essence, which underlines and reveals the body through precise cuts."
Presented at showroom 7 at the beginning of October, this third chapter, penned by Lebanese designer Dima Kassis, concentrates on cuts in order to create advantageous silhouettes: silk-lined bustier dresses are designed inside out to drape the figure and lengthen its proportions.
Pants receive the same treatment, whether they have high-waists or a waist underlined by a ribbon to emphasize the bust of dresses, thus accentuating the figures sensuality.
Atmospheric blue crepe couture-dungarees, washed-out silk evening gowns that play around with the transparency of guipure or a simple black/white contrast bring timelessness to the collection. Enticing lines, plunged backs and asymmetrical armholes are the final touches for a woman who looks and feels beautiful.