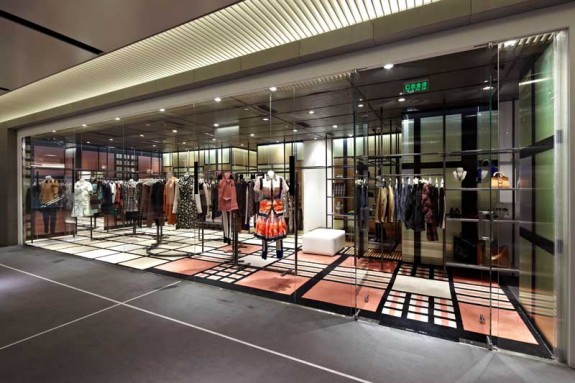 NEW YORK, Nov 13, 2012/ — Marni expands its horizon in the Far East with the opening of its store at Reel Mall in Shanghai. The 80 square meter store showcases exclusively the MARNI EDITION women's and the MARNI men's collections.
The MARNI EDITION stores introduce a new concept of design for Marni. The ideas of flexibility and modularity describe the Edition concept providing a boundless versatility. The store is conceived as a significant backdrop for the Marni Edition and the Marni men's collections: the space runs a colorful impact due to a carpet patchwork created with three Marni Edition patterns also featured in the collection.
The whole perimeter of the selling area has been covered with back lit transparent alveolar panels covered with a printed adhesive films in the three different patterns. Steel tubular structures like a "metal forest" are Marni Edition distinctive elements, steel shelves are added to the tubular structures to grant an interchangeable display, both for ready to wear and for accessories.
Steel rails are connected with one another on top and bottom by stainless steel hinges allowing different set ups: curved and straight rails are connected together to create two long flexible "snakes". 8 natural fiberglass mannequins busts float with a scenographic impact from the ceiling in perforated rough steel contrasting with the colorful flooring.
MARNI EDITION Store
Shanghai – Reel Mall
2/F #205, Reel Department Store
1601 Nanjing Road (West), Jingan District