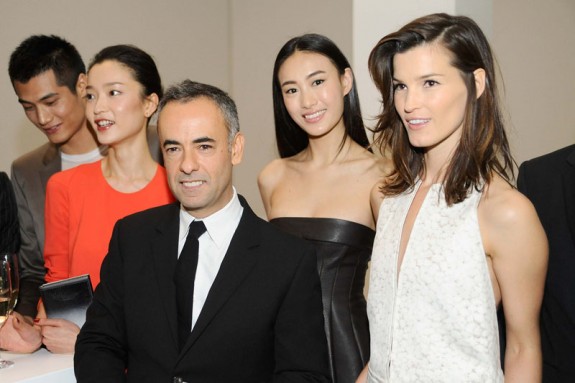 NEW YORK, Nov 13, 2012/ — With Kevin Carrigan, Global Creative Director of ck Calvin Klein and Calvin Klein Jeans in attendance, Francisco Costa, Calvin Klein Collection Women's Creative Director hosted a exclusive dinner at the Chinese contemporary art museum, Long March Space, in Beijing's 798 Art District in China.
Guests were able to view the gallery's latest exhibition, "Form of the Formless," by renown Chinese artist and sculptor, Zhan Wang. Following cocktails, guests sat for dinner, which included a menu especially designed for the evening by award-winning chef Daniel Boulud.
New Zealand-born singer-songwriter and guitarist, Kimbra provided a special musical performance of songs from her current album. An Aria Award winning artist, Kimbra, who released her debut album earlier this year, received global acclaim for her collaboration on Gotye's multi-platinum single, "Somebody That I Used to Know." This evening marked Kimbra's first-ever performance in Asia.
For the evening, guests who were wardrobed in Calvin Klein Collection, included actresses Zhang Zi Lin, Zhu Zhu, and Du Juan; actor Huang Xiao Ming, models Zhao Lei, Qin Shu Pei, Wang Xiao, Hao Yun Xiang, Tang Xiao Tian, Li Zhen, and Jeremy O'Shea; artist Zhou Yi; as well as Yang Ya Qi, Rain Li, Wendy Ye, Xie Dong Na, and performer for the evening, Kimbra.
The women's looks were designed by Francisco Costa, the brand's Women's Creative Director, who was in attendance. The men's looks were designed by Italo Zucchelli, the brand's Men's Creative Director.
Photographer, blogger and model, Hanneli Mustaparta – who serves as a contributor to the company's official Tumblr® blog at calvinklein.tumblr.com – was also on hand to capture the event with her camera.
Additionally, notable bloggers Lily Kwong, Chen Man, Mega Meng Meng and Li Hui were also present. All were wardrobed by Calvin Klein Collection.
Other guests of note in attendance included artists Liu Xiao Dong, Yu Hong, Yang Shao Bin, photographer John Minh Nguyen, as well as Nels Frye, and Ma Yan Li.
IMAGE CREDITS: © 2012 Getty Images