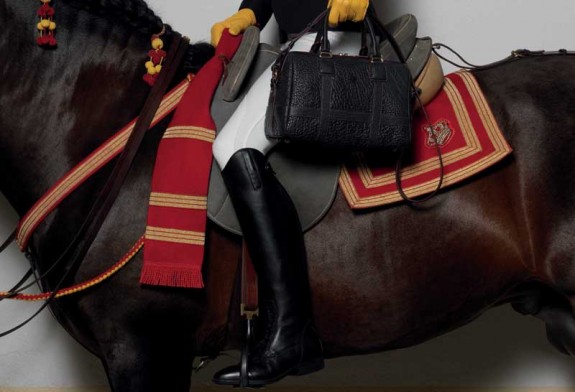 PARIS, Nov 13, 2012/ — PASEO, an often used Spanish word that can mean a walk or the act of walking; be it a stroll or to saunter.
Interestingly enough, it can also mean "drive", encompassing all the English meanings as in propelling forward motion as in to prod the herd during a cattle drive. It also means to take a trip, go on an outing, even an expedition. It will even allow you to "wander."
And of course, it also means "passage" which could literally be a road or figuratively a movement of time.
Yet, among all these meanings of "paseo", Stuart Vevers, Creative Director of Loewe focused on "ride" as in horseback riding. Inspired by the Royal Andalusian School of Equestrian Art, Stuart Vevers created the PASEO bag, wherein he perfectly balanced masculine equestrianism and feminine decoration in the School's baroque aesthetic.
It was a visit to the Royal Andalusian School of Equestrian Art, which by the way was the initial starting point of the Loewe Autumn/Winter 2012 ready-to-wear collection. Still, the Royal School continued to loom large in Vevers' imagination. Thus, the birth of the PASEO bag was inevitable.
Expected to be in store on January 2013, the Paseo bag is made from buffalo skin. It is lined with suede in a contrasting colour – combinations include lemon/purple and stone/greige – with the textural differences designed to heighten the bag's tactile sensuality.
Armed with a practical interior pocket, the bag also has an adjustable shoulder strap, and its design evokes the shape of a horse's bridle and reins.
The choice of colours that the 'Paseo' comes in – stone, bright purple, coral, lemon, ocean, oxblood and black – reflect the palette of vivid earthy colours that is inherently Spanish.
For this project Loewe has assimilated elements of Spanish equestrian art into its language. The images shot for the 'Paseo' campaign showcase the bag along with the noble bearing of the horses Pizarro, Ventosillo and Vigilante, all wearing lavish harnesses reserved for special occasions and ridden by a jockey dressed in the Royal Andalusian Equestrian School uniform.
Photos courtesy of Loewe