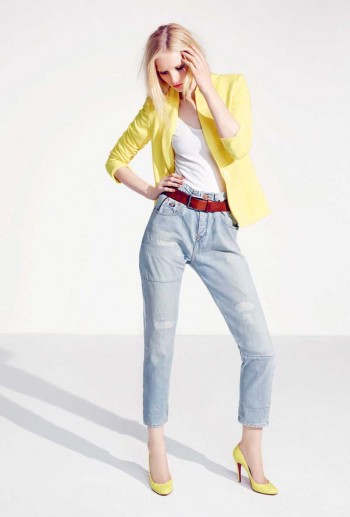 DALLAS, Nov 15, 2012/ — Wald/Rossbach, Germany-based MAC, known not just a jeansmaker but also as a trousers specialist proposes delicate pastels, sorbet hues, floral and graphic prints for Spring/Summer 2013.
After a cold winter, MAC wants you to make a sorbet statement starting with transitional light pastels ins crisp shades for spring. Candy tones, warmed up with pops of beiges and taupes, as well as delicate sorbet nuances such as apricot, pistachio or vanilla are an invitation to fully enjoy the season.
And when the summer rays come, MAC advises to go for vibrant yet smooth shades of lilac, fine lime green and lemon yellow arecombined with neutrals. Hues of apple green in the linings create a neon contrast with the outer colors of the pants. Metallic coatings in gold and silver, sparkling lurex yarns and sequins are applied to slim cut jeans to convey an idea of casual luxury.
MAC's statement pieces this season focuses on skinny jeans with piping details. The updated super-stretch denims and slim fit pants dominate all styles. Their casual sportive flair combined with a sophisticated cut, makes the super skinny fit the ideal choice for an all season long denim look.
The Sexy Boyfriend, with its conically shaped cut, is the new fit between chino and casual denim.
The flowing styles à la Marlene, inspired by the German-American icon Marlene Dietrich, add a touch of romanticism to this structured collection. Their comfortable yet sophisticated fit conveys a modern chic appeal.
Staples of the collections are the over size silk trousers with elastic or string waistband. Whether they are cropped or slightly shorter than the traditional length, the cigarette pants are the new chinos and they summarize the spirit of the collection.
The light Summer poplins and gabardine twill fabrics are the highlights of the Spring Summer 2013 collection. Silk, crêpe, eco-friendly Tencel fabric and cupro are also absolute must-haves. The extra-light and durable Tencel, in particular, is renowned for its super soft touch. The bi-stretch fabrics, used for pipings and skinnys, give the body a dramatically flattering figure.
Photos courtesy of MAC