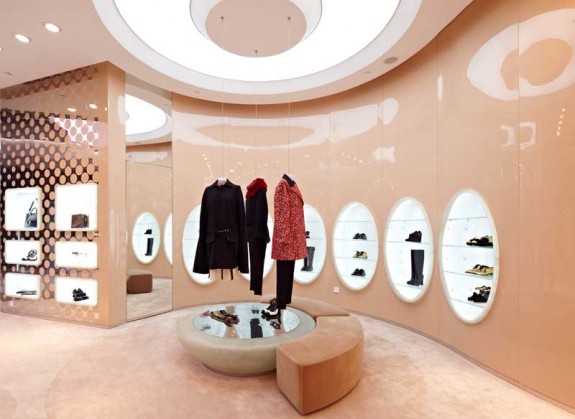 NEW YORK, Nov 13, 2012/ — Already entrenched firmly in Shanghai, Marni has set its sights on Shenyang with the opening of a new flagship boutique of 127 square meters in Forum 66 shopping mall.
The constraints of the existing space, while presenting challenges, allowed for interesting solutions.The long narrow space lends itself to two distinct zones for the ready to wear and accessories collections. Both spaces are visible from the exterior and invite to discover the boutique while maintaining a sense of intimacy.
Flanking the space on each side, arrays of backlit fiberglass accessories boxes set into frit-patterned stainless steel walls create a focal point, while LCD screens on the return wall behind the accessories attract from a distance in either direction.
A freestanding stainless steel rail breaks up the facade, where natural fibreglass mannequins appear to float as suspended from the ceiling. Two circular fibreglass display tables sit atop insets of deeper hued carpeting, punctuating the zones, while velvet benches encourage to relax.
A warm, earthy palette complements the latest Marni and Marni Edition collections
MARNI BOUTIQUE
SHENYANG – FORUM 66
122, henglong square No.1 Youth Street, Shenhe District