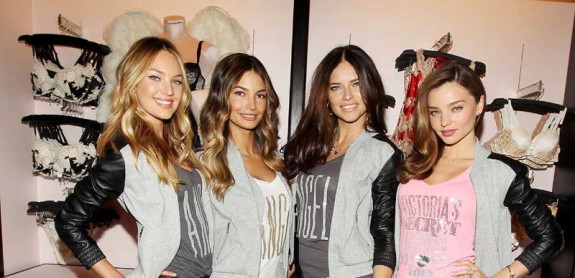 NEW YORK, Nov 19, 2012/ — It was paparazzi mayhem at Herald Square when supermodels Adriana Lima, Miranda Kerr, Candice Swanepoel and Lily Aldridge, a.k.a. Victoria's Secret Angels arrived to celebrate the reopening of the newly expanded and now the largest in the world flagship store of Victoria's Secret.
The Angels appeared at the ultimate Victoria's Secret Herald Square store to share their holiday shopping tips, memories and favorite gift picks of the season which included Very Sexy, Dream Angels, Bombshell, Body by Victoria and the super-glamorous Victoria's Secret Designer Collection.
Opening just in time for the holiday season, almost 8,000 square- foot store features warm, black cherry hardwood floors, sculpted pink surfaces with rich accents of black chrome, Italian marble floors and custom ribbon chandeliers adorned with backlit Swarovski crystals which highlights the 14-foot high focal wall showing iconic Victoria's Secret Angels images.
Every floor features video screens playing the world-famous Victoria's Secret Fashion Show, recent TV spots, and Supermodel footage.
Located in the heart of the most exciting city in the world, Victoria's Secret Herald Square features all of the brand's best and most expansive collections – Bras, Beauty, Swim, Victoria's Secret Sport, PINK and much more. The new three-floor Herald Square flagship re-design embodies the brand's sexy, sophisticated and glamorous spirit with a nod to its heritage.
Only at Herald Square, customers are able to experience the first-ever 2,500-square-foot perfumery featuring new European-inspired kiosks which include the full line of the best-selling fragrances – like Victoria's Secret Bombshell, Dream Angels Heavenly and Victoria's Secret Angel.
The lower level of the store showcases Victoria's Secret PINK—a collegiate-inspired collection of flirty, fun and colorful bras, panties and loungewear as well as the Victoria's Secret Sport collection. Customers are also able to shop Victoria's Secret most popular bras by style in the Bra Salon, and a team of highly trained Bra Specialists is on hand for complementary bra fittings.
For an even more personalized shopping experience, the store's plush fitting rooms feature call buttons for immediate assistance and the beauty room has interactive videos to help customers get their best look and choose their favorite fragrances.
Victoria's Secret at Herald Square
1328 Broadway (between West 34th & West 35th Streets)
New York, NY
Hours: Monday – Saturday: 10am-9:30pm & Sunday: 11am-8pm