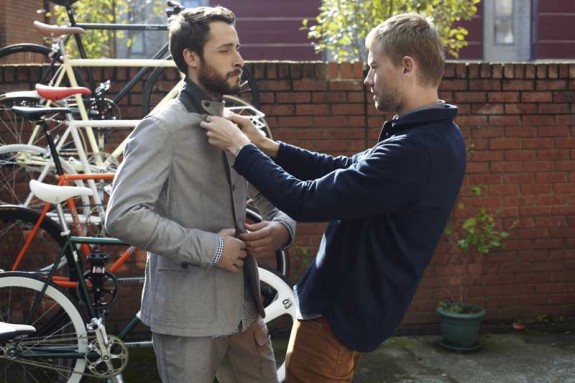 NEW YORK, Dec 3, 2012/ — With the popularity of "Suits" and the lovable Mike Ross, one of the main characters in this TV drama/comedy always riding a bike, biking has once again taken center stage in pop culture.
And with the real life increase in bike lanes and bikers, it was only a matter of time that trendy biker outfits that are more fashionable than functional will be designed and created.
Hence, it's not surprising that H&M has collaborated with Brick Lane Bikes of East London to created a men's capsule collection that combined the function of cycling wear with great city style, for both on and off the bike.
The eleven- piece collection has been designed by H&M and tested and approved by Brick Lane Bikes, one of the world's leading custom-bike specialists. Inspired by both vintage pieces and today's sports performance, the collection is made from more sustainable materials as part of H&M's Conscious work. The collection will be launched on March 7th, 2013 in approximately 180 stores worldwide.
Founded in 2006, Brick Lane Bikes was the UK's first fixed-gear bike store, specializing in custom-made bikes built in their on-site workshop.
Brick Lane Bikes are now at the heart of East London's cycling scene, making them the perfect team to test and approve this special cycling collection. Each piece has been designed to be worn on and off the bike, with functional details providing both performance and style. Materials used include organic cotton, recycled cotton and recycled polyester, meaning the collection is as sustainable as cycling itself.