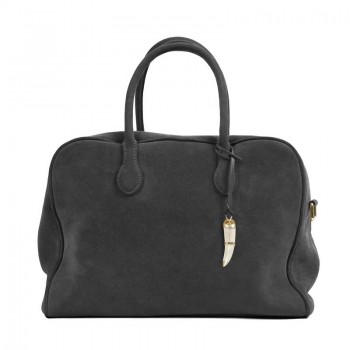 NEW YORK, Dec 12, 2012/ — The first ever bag released by Balmain, the "Pierre" is designed to be timeless and precisely as a counterpoint to the "in one season, out the next" transitory nature of fashion.
The brainchild of French designer Aurelie Bidermann, known for her fanciful jewelry pieces, in collaboration with Balmain's Creative Director Olivier Rousteing, the "Pierre" is constructed in natural calfskin suede, designed to age and acquire a lived-in patina over time.
Made in France, with a limited handmade production, the bag will be available exclusively at Barneys New York and Balmain in Paris. It will be available in grey, natural and cherry, and feature an ivory sanglier tooth hanging from the zip pull, a nod to Balmain's signature "Ivoire" scent.
Inside, glove-soft ivory leather with three patch pockets (one with a mirror and another with a small sheepskin pouch) is supremely refined and feminine; a counterpoint to the sleekly rough exterior.
This is a bag designed to age beautifully, reflect the woman who carries it and compose with Balmain's luxurious clothes worn over the shoulder, or as a handbag.