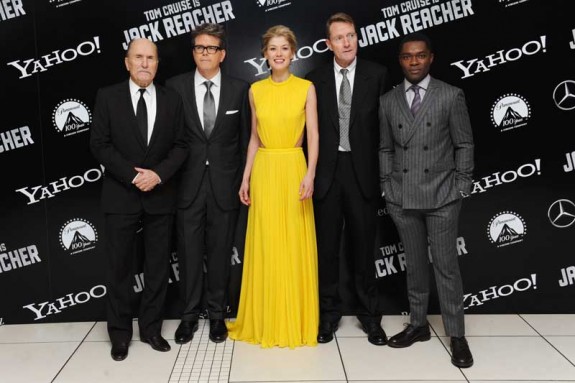 LONDON, Dec 10, 2012/ — With Tom Cruise, Rosamund Pike, Robert Duvall, Don Granger, Christopher McQuarrie, David Oyelowo and Lee Child heading up the guest list, "Jack Reacher" premiered in London's Odeon Leicester Square earlier this evening.
Based on author Lee Child's 2005 novel, "One Shot", "Jack Reacher" stars Tom Cruise as the title character. Filmed entirely in Pittsburgh, Pennsylvania, "Jack Reacher" begins with a sniper killing five people in Pittsburgh. The police arrest a man named Barr, who asks them to contact Jack Reacher, a drifter and former Army Military Police officer.
Working as an investigator for Barr's defense attorney, Reacher unravels a case involving a hired killer and a Russian known only as "the zec."
Jack Reacher is scheduled to be released on December 21, 2012.