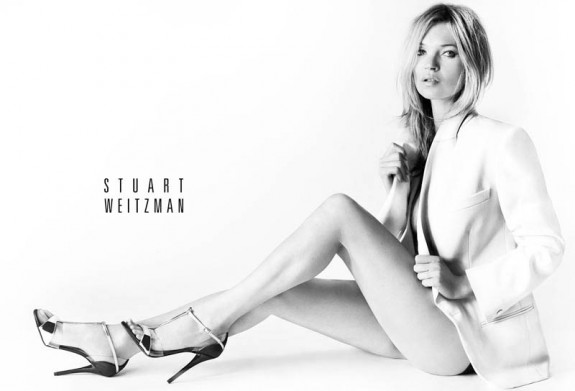 NEW YORK, Dec 18, 2012/ FW/ — Shot by Mario Testino, the Stuart Weitzman Spring 2013 campaign features Kate Moss, one of the most enduring supermodels in our era.
An international fashion icon, wife, mother and entrepreneur, Kate Moss has been named the new face of Stuart Weitzman who was quoted saying, "I'm so happy to be the face of the brand this season."
This is the first time that Kate Moss has modeled in an American shoe designer advertising campaign that is strictly devoted to shoes in her two decade modeling career. She was selected as the new face of the brand because of her international fashion status as well as her personal trend-setting cult style.
Kate Moss exudes a fashion sense that every woman aspires to emulate. Women want to dress like her, look like her and walk in her shoes… and now she's walking in Stuart Weitzman's.
The Weitzman campaign, already regarded as breaking new ground for the industry with a unique visual vocabulary, becomes iconic with the "Kate" factor. The rare chemistry between photographer and subject is evident in the campaign shots.
With its black & white photography, the imagery highlights the fact that Stuart Weitzman's are the first thing you put on in the morning and the last thing you take off at night. In the Stuart Weitzman world, sexy means being comfortable and confident in your own skin.
The campaign captures the sexiness of the brand in a natural, classic, chic way while clearly showcasing the stiletto and shoe styles.