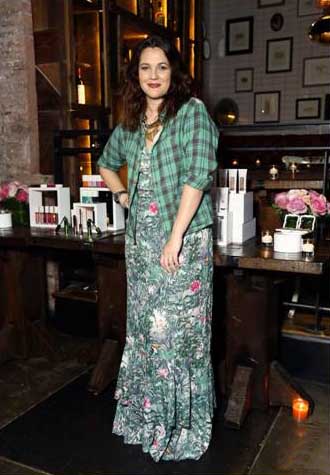 NEW YORK, Jan 16, 2013/ — Drew Barrymore does not need an introduction. Actress, producer, director former Co-Creative Director of her own CoverGirl campaign (2007-2012), Drew Barrymore has a true passion for film making and unsurprisingly, makeup!
On Monday, the famed actress launched FLOWER, her own premium cosmetics line. Custom formulated with the same quality ingredients found in department store luxury brands, Flower is sold for a fraction of the price.
Created in collaboration with Walmart and Maesa, creator and manufacturer exclusive beauty products, the FLOWER portfolio consists of more than 181 eye, face, lip and nail products ranging from $4.98 to $13.98, and will be available in more than 1,500 Walmart stores and on Walmart.com by the end of January.
Through a revolutionary business model, FLOWER has formulated products and designed packaging at the same level as prestige brands. FLOWER is proudly manufactured in the USA and never tested on animals.
As an owner of the brand, Drew takes pride in promoting FLOWER, which in turn allows the company to put all of its money into the formulations and packaging, and not into advertising.
Launching it on January 14th in New York, Drew Barrymore chose to wear an H&M Conscious dress instead of the obligatory high-street fashion that celebrities favor during a product launch. Made from recycled polyester, the H&M Conscious dress retails at $19.95 and will hit H&M store on March 2013.