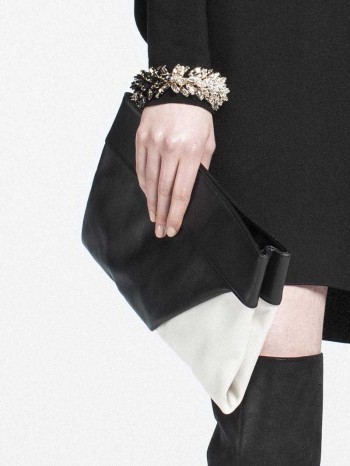 DALLAS, Jan 23, 2013/ — The accessories for the Vionnet Pre-Fall 2013 echo the luxuriousness of the collection which has been underscored by the use of exceptionally rich materials.
The art deco influence which had been seen in micro metal platinum and gold embroideries, geometric trims, and bow ties was also evident in the shoes, purses and jewelry.
In fact, the signatures of Madame Vionnet — square cuts and bias constructions are all present, yet vividly re-imagined with a contemporary eye. Black and white root the collection, creating a two-tone game on fronts and backs of dresses that reinforces the art deco undercurrent.
A hidden heel flat, for example, is crafted from two tone asymmetrical crocodile and satin, while slouchy suede and leather blocked boots have a zip off top panel.
The new signature Vionnet heel features an angular metal construction and is inserted into a satin or leather base.
Handbags, another growing realm, are delineated by the new key motif metal hardware on folded clutches, suede and leather totes, and over the shoulder bags.