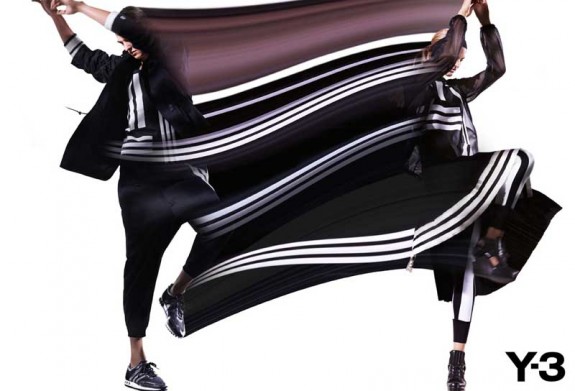 NEW YORK, Jan 8, 2013/ — Gearing up for its 10th anniversary this year, Y-3's communication campaign for Spring/Summer 2013 captures the essence of the brand.
A collaboration between adidas and Yohji Yamamoto that began 10 years ago, Y-3 seemed to be based on opposites: adidas' sports technology and Yohji Yamamoto's style aesthetic.
Exploring that dichotomy, photographer and director Pierre Debusschere designed the campaign to discover the transmission of ideas from the two worlds of Japan and Germany.
Pierre Debusschere's photographs are a celebration of motion and exploration of movement that draws on the bold colors and graphic lines of the collection. Through the use of visual effects, the photographs have been distorted to provide a palpable sense of kinetic energy to the images.
The Spring/Summer 2013 campaign film is an evolution of these themes – study of movement, distortion and transformation. Through a cutting edge interactive online interface located on the Y-3 website, the user will be able to engage with the video content and through manipulation of sound and image will create their own video clips to share online with others.
In addition, Y-3 commissioned Tim Hecker, noted as one of the most preeminent figures currently making ambient music, to compose an original work exclusively for the Spring/Summer 2013 interactive video. As with much of Tim's work this piece plays with notion of variations on a theme, resulting in individual loops which shift and pulse in time with the visual effects of the campaign film.
Creative Direction: Lloyd & Co
Photographer: Pierre Debusschere
Video Director of Photography: Tosh Ozawa
Video Editor and Effects Artist: Loïc Maes
Styling: Jay Massacret
Hair Stylist: Esther Langham
Makeup Artist: Adrien Pinault
Models: Juliane Grüner / Guerrino Santulliana