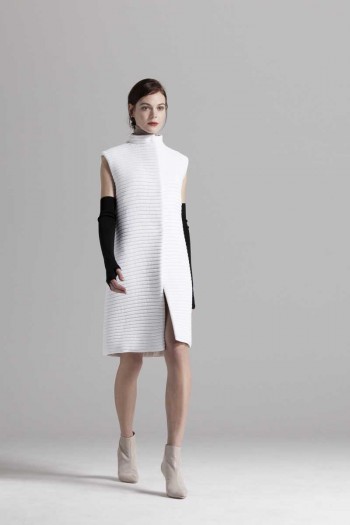 LONDON, Feb 20, 2013/ — Taking a cue from the revolutionary 1960s, Pringle of Scotland looked towards the space age when man walked on the moon.
So, it's not surprising that the bubble stitch is the most recognizable element. With the color palette mainly white and blue, it is easy to imagine the blue skies on that fateful day of July 20, 1969 when Neil Armstrong and Buzz Aldrin reported, "Houston, the Eagle has landed".
And, that's just the beginning of the 1960s influence. The constructed shapes and rounded seaming on coats and tailoring bring back the modernistic approach of the era that has been labeled by history as the space age and up to today is still the measure of modernity when it comes to design.
In honor of that era, the Pringle of Scotland Fall/Winter 2013-2014 collection offers a clean and structured silhouette, softened through the use of luxurious knits and a colour palette that builds from white, chalk, praline and caramel tones through to vivid cornflower and sea blue.
Throughout the collection, knitwear pieces were treated as wovens and vice versa wherein traditional knit techniques were used to innovative effect;
A crochet fur stitch hand knit sweater in cashmere is worn with an intricate multi stitch dress that incorporates bubble stitch, flat pleating and lacing, whilst a tubular knit dress and cardigan are realised in technical yarns that play with tension to create a textural hand feel.
The brand's iconic argyle is presented in varying forms, from a more literal interpretation on a knitted dress with devore effect diamonds, to the subtle formation of pixelated prints, to the use of sharp angles that mimic the points of a diamond seen on the v neckline of a tuxedo jacket and in the rib hem detail of a cashmere knit.