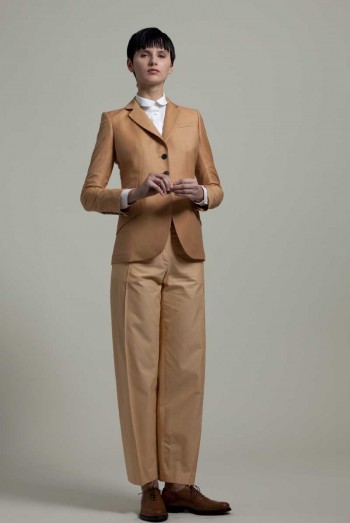 PARIS, Mar 6, 2013/ — GIANFRANCO SCOTTI Spring / Summer 2013, the brand's fourth collection, expands its vision of immaculate handcrafted tailoring with a collection inspired by deserts, their transcendental ever-expanding panorama and the nomadic women that inhabit them.
Rusted colors and hand-painted fabrics are a strong element this season evoking a certain notion of nature and summer heat. This textural palette attempts to explore and celebrate women's sensuality; its strength and its fragility, a forged duality that has always been present in the brand's DNA.
Tailored jackets, pants and skirts will always find a strong presence in GIANFRANCO SCOTTI. Combining techniques in Haute Couture, Italian Ready-to-Wear and Savile Row, this collection's tailored garments are architectural with lines that recall the inner structure of jackets.
At times, they also recall nature; fluid and organic. Savile Row fabrics such as lightweight super 160s and 140swools, cavalry cottons and air wool -a translucent fluid wool-give garments structure without being heavy handed.
For the brand, it is important to create pieces that although incredibly constructed, they remain light and comfortable. Internal and external hand stitching details in subtle contrasting colors give garments a unique mark that is in line with the brand's philosophy of high quality.
Haute Couture techniques find prominence in this collection's dresses, skirts and shirts. Fluid lines, draping effects and seam lines give lightness and volume to fabrics such as cotton poplin, cotton silk and other cotton blends. Comfort is key and these pieces have an effortless quality that makes them easy to wear.
As GIANFRANCO SCOTTI establishes itself and its identity as a "real" luxury brand, it is with this body of work that the company achieves new modern ways of construction using the best quality possible. Its knowledge and ability to combine various technical skills allows for new and modern innovations.