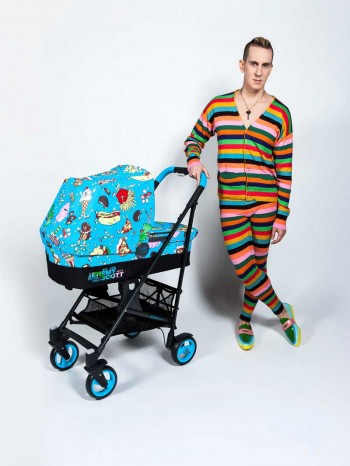 DALLAS, May 1, 2013/ — Jeremy Scott is a prolific designer and once more, fashion's 'enfant terrible' proved that he can tackle everything, including babies.
On the evening of April 25th the renowned German company CYBEX celebrated the debut of its colourful collaboration with American fashion designer Jeremy Scott.
Over 150 guests from around the globe gathered in London for a first look at the unique collection. Jeremy Scott lived up to his fashion's 'enfant terrible' image by creating Pop Art "Food Fight" print exclusively for CYBEX, admitting that he was inspired by his own childhood when designing the original print.
The vivid print features cute food characters, including courageous popcorn pieces tackling an aggressive beef burger and a soda bottle fighting a hotdog. "It started with the idea of a" Food Fight " reminiscent of those which happen in 80s movies. Unfortunately this never happened to me! That got me into thinking what it would look like if food was actually fighting – the result is the print of the CYBEX by Jeremy Scott collection", says the designer.
The launch was held at London's Shoreditch Studios, which were transformed into a colourful CYBEX by Jeremy Scott world.
Even the catering emulated the 'Food Fight' theme with exclusive mini burgers, hotdogs and popcorn available for guests to enjoy. Jeremy Scott delivered an exclusive press presentation and stayed late into the evening to talk to guests about his first, exciting collaboration the brand. DJ Jodie Harsh – a close friend of Jeremy's – wowed guests with unusual looks and a special music selection.
The strollers, car seats and accessories in the CYBEX by Jeremy Scott collection are available in stores from June on. For further information about the CYBEX by Jeremy Scott collection, please visit