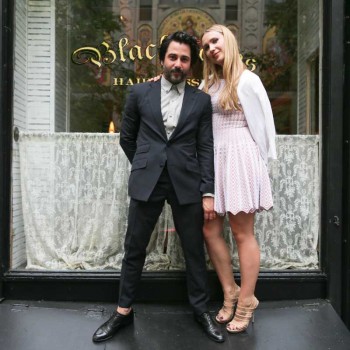 NEW YORK, Jun 25, 2013/ — Last night, the glitterati gathered at Blackstones Hairdressing outpost at 19 East 7th Street (btw 2nd and 3rd Avenue) to celebrate the hair salon's new expansion.
Joey Silvestera, owner of Blackstones and his wife Alina welcomed ), Helena Christensen, Seth Weisser & Gerard Maione of What Goes Around Comes Around, Scott Lipps (Owner, ONE Model Management), Maripol and many more guests to this Monday night party where music was provided by DJs Paul Sevigny and Paul Banks. Refreshments were provided by Freixenet and Stella Artois.
It was in February 2007, when Joey Silvestera opened Blackstones at its current East Village locale. "I wanted to create an experience that was different from anything else in New York," he says, noting that the salon's dark, taxidermy-enhanced sensibility has its roots in Old World curiosity cabinets (the precursor to the museum), like Deyrolle in Paris' Left Bank.
But the inspiration goes beyond the mood. Joey outfitted the space with antiques of his own, tracing the history of various grooming tools (razors and blow-dryers, for example) back to the 1920s.
The salon's "family" name keeps to the same spirit, it takes after 20th-century illusionist Harry Blackstone. New York City certainly isn't lacking for salons.
What sets Blackstones apart is its more intimate experience and its emphasis in creative storytelling. This is not the place to to look for the latest knock-off celebrity cut.
Silvestera specializes in the narrative of a look, personalized for each client, with inspirations pulled from the street and a library of lookbooks (historical, literary, and cinematic).
Think Steve McQueen, period criminal mugshots, and French Symbolist drawings. "We come up with concepts," says Silvestera of his team's creative mindset.
Blackstones Hairdressing
19 East 7th Street (btw 2nd and 3rd Avenue)
New York, New York
[MARI DAVIS]
Photos by BFA NYC/Photographer David X Prutting