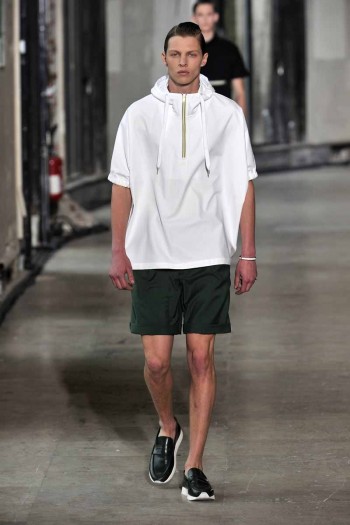 PARIS, Jun 28, 2013/— In his press notes, Kris Van Assche wrote, "The idea of sport – an element I have had since my first collection, where all of the shoes were white Stan Smiths with a green logo – versus the grown-up, chic connotations of cognac as both a drink and a classic color of men's leather goods, was a combination I wanted to explore."
That said, it did not come as a surprised when he titled his 18th menswear collection "Cognac Sport," an homage to the men who have grown up with sportswear, wearing it since they were boys and has become the most sophisticated fashion customers as adults.
"The collection is about that personal interpretation of the rules and the codes of menswear, not adhering to the prescribed, clichéd view of a choice of either 'sport' or 'chic' – it's both. The attitude of the collection is anti-precious, avoiding 'the dandy', playful, yet still enjoying the refined," explained Kris Van Assche.
A bold, sporting feel colors the latest Kris Van Assche collection both literally and metaphorically this season. The clichéd game of the 'masculine wardrobe' is not to be played in the expected way.
Classic connotations of 'sport' and 'chic' are combined, transposed and playfully transgressed.
Hybrid silhouettes permeate the collection: frequently the sporting cagoule jacket is cross-fertilized with the elegant cut of the trench; shorts are worn with tailored double breasted jackets, their buttons partly replaced by leather covered press studs; the daring colors and patterns of sportswear are applied to the sober shapes of classic tailoring.