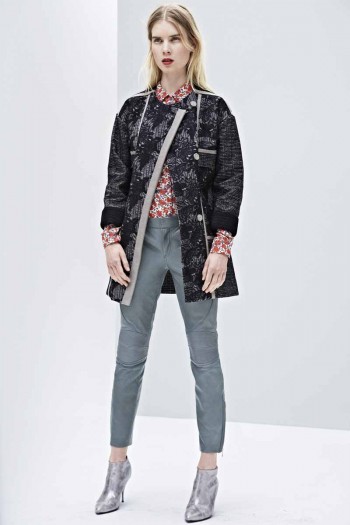 NEW YORK, Jun 17, 2013/ — Creating new prints in her signature style, Rebecca Taylor takes her Resort 2014 collection center stage with an emphasis in cool luxe comfort while still retaining the modern feminine aesthetic that her label is known for.
With head to toe print matching, signature animal patterns have a strong presence in the collection, with a mix of leopard and tiger textures. Meanwhile, floral patterns are beautifully woven in lace and artfully applied to suiting and leather base qualities.
The neutral color palette, with stormy blues, grey mélange, charcoal, and stone, are accented with sage, lilac, and orchid, and contrasted with stronger highlights of aubergine and red. Running throughout is a bold optic of black and cream, seen in print and textiles.
The collection is rich in tactile elements with printed leather, lux patterned jacquards, soft tweeds, textured silks, and open mesh knits. Feminine accents are found in pretty laces mixed with silk, ponte, and sweaters, underlying a sense of subtle transparency.
Touches of metallic are infused in studded tweeds, lurex knits, and grommet hardware. Pre-spring lightness is felt throughout the collection in open-latticed trims, the introduction of caged style lines, and cut-out sweatshirting details.