NEW YORK, June 16, 2013/ FW/ — Entitled 'The Designers of Beautiful Bottoms Discuss their Collection', Beautiful Bottoms is a fashion line that was started in 2009 by Lauren Skerritt and Poppy Sexton-Wainwright because the girls had a vision to create a brand that combined exciting prints in silk lingerie, loungewear and beachwear styles at a middle range price points. Beautiful Bottoms' pieces are designed to be worn layered, casually hinting at what lies beneath, and the sheer delicate fabrics and femininity of the Beautiful Bottoms brand makes their collections perfect for the boudoir as well.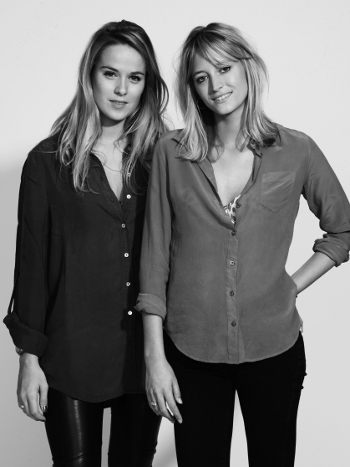 Fashion Windows catches up with the talented designers, Lauren Skerritt and Poppy Sexton-Wainwright of Beautiful to discuss their latest collection.
Fashion Windows: How did you first get started in lingerie design?
Poppy and I met at Newcastle University, where we both shared a love for lingerie. We wanted to create a brand which combined affordability with fabulous printed silks. The business was originally the product of a business course we were both studying, which we took to the next level when we finished studying.
FW: What inspires you to design? 
We both travel a lot and take inspiration from places we visit. We LOVE colour and our prints always reflect this. Our Fall/Winter '13 collection follows an eccentric mood where English roses meet geometric designs bursting with colour! Our new PJs for the season are a personal favourite. They are definitely a statement piece and so comfy! We always design a print for everyone and our collections mix the feminine with the bold.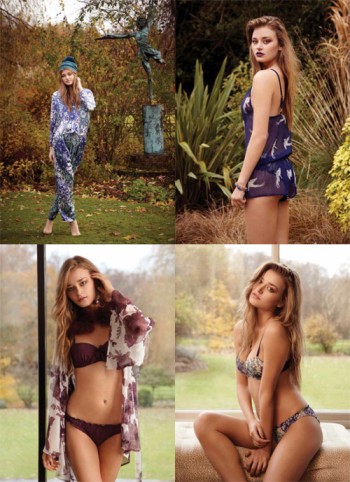 FW: Describe your personal style?
I am a pretty casual dresser day to day, I love my jeans and fun trainers and am pretty minimal on the jewelry front. If i'm going out I will pull out my leathers! Or a sheer shirt…with a Beautiful Bottoms Bra. I am a huge fan of our bralettes again for comfort reasons!
FW: Who is your ultimate style icon?
I love Kate Bosworth, she dresses well…as does Carey Mulligan.
FW: What was the theme/inspiration for your Beautiful Bottoms Spring/Summer 2013 collection?
For SS13, we took inspiration from the bleached sunsets of eighties Miami and the soft florals and palms of Hawaii. My favourite is the Wave Shirt, the collection has a 70s feel about it which I love.
FW: What were your favorite fabrics and hues used in your Beautiful Bottoms Spring/Summer 2013 collection?
If I'm feeling girly then definitely the Tropic. The corals are so pretty – the Lace wired bra with knikcer is such a sweet set. But for pool side, I would go with the Wave. The colours are fantastic!
FW: What is your best career advice for aspiring designers?
Definitely do a business course or get some experience working in a small business. There is so much involved in running a business that you don't learn at fashion school.
FW: What has been the best moment of your career thus far?
When we launched in Selfridges!
FW: Do you have anything else to add?
Always do what you love and makes you happy!
[DARBY RADCLIFF]
 Photos Courtesy of VPR